Hiking around National Parks is a great summer activity to do with kids, and it's always best to carry a compass with you while hiking.  If you don't have one, there's an old trail trick you can use to make one – just keep a small magnet and a sewing needle in your pack, and a little dish for water, and you'll have everything you need to make your own compass. Print out the instructions below and keep that in your pack, too!
This printable is included in our California Activity Booklet.  Take a look here at the other activities you can do with the California Activity Booklet!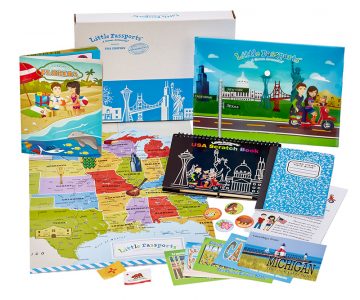 Ride along with Sam and Sofia on their road trip through the United States! Each month, your child will receive a magazine-sized activity booklet that covers two states and is filled with educational games, puzzles, word games, worksheets, arts and crafts and so much more.