Travel to Louisiana and Oregon With Us!
Our USA Edition subscription introduces kids ages 7 to 12 to two new states each month. They'll love learning with our 32-page activity-packed State Journal, featuring hands-on activities, crafts, recipes and science experiments! Take a sneak peek at one of our popular packages featuring Louisiana and Oregon.

Exploring Louisiana and Oregon
Southeast to Northwest, there are plenty of interesting things to learn about in our USA Edition package featuring Louisiana and Oregon.
Crafts & Models:   Get crafty building a mini Mardi Gras float out of an old shoebox. Wild imagination recommended! Want something more structured? Included in the package is a pop-up model with all the materials necessary to construct an Oregon Trail covered wagon model. Building ours went off without a hitch!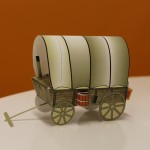 Explore Nature:   Receiving a USA Edition package isn't all about staying inside. Your child will learn how to identify some of Louisiana's resident bird species, and maybe they'll even find some of the same birds in their own backyard. Plus, they'll love the step-by-step instructions on how to draw Oregon's state insect, the swallowtail butterfly.
Science Experiments:   Want something a little messier? The USA Edition also features hands-on science activities. Get out the lab coats and conduct an experiment to discover how Louisiana's swamps act as natural water filters, making the bayou an important habitat for dozens of plant and animal species.
Something for Everyone!  Whether your kid likes crafts, fun facts, science, or history, we guarantee that both learning and fun will be had! Click here to subscribe to the USA Edition.
Need a closer look?
Check out some of the other activities included in our Louisiana/Oregon package:
– Build a mini Mardi Gras float out of a shoe-box
– Learn how to identify different Louisiana birds
– Learn how swamps naturally filter water through an experiment
– Delicious jambalaya recipe
– Build an Oregon Trail covered wagon model
– Learn how to draw a swallowtail butterfly, Oregon's state insect
– Get your bearings in Portland by filling in a city map
Want to learn more about our other subscription lines? See below!
5 Reasons Your Preschooler Will Love Early Explorers
SHARE THIS: