St. Lucia Traditions and Recipe for Kids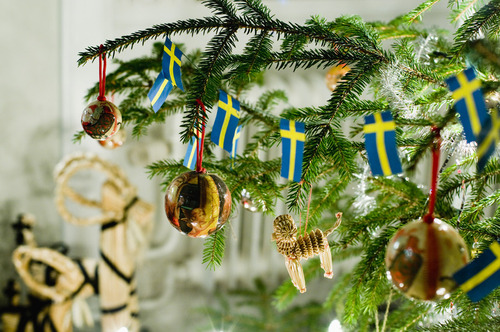 In Sweden, there is a famous song that says Christmas lasts until Easter! Swedish Christmas celebrations begin with the December 13th  celebration of Saint Lucia and run all the way until Knut, on January 20th. These and other unique traditions make Christmas a perfect time to visit Sweden.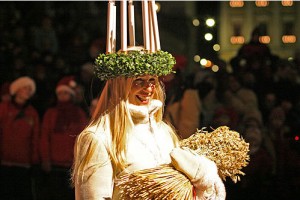 Saint Lucia on Dec. 13 marks the beginning of the holiday season. To celebrate, the oldest girl in a family dresses in a white robe and puts on a crown made of candles to play the role of St. Lucia. Yup, real candles! She has to walk very carefully with this burning arrangement on her head! The legend has it that Saint Lucia  overcame darkness and found light. To continue bringing light into the long dark Swedish nights, many parades are organized in Sweden.
The dressing up doesn''t end there! After dinner on Christmas Eve on Dec. 24th, a merrymaker dresses up as Tomte, a Christmas gnome. The back-story about Tomte may sound familiar: he lives on a farm and gives people presents. Today Tomte has begun to blend with Santa and each family interprets him differently. At every home, though, Tomte or Santa walks right through the front door on Christmas Eve (after stopping for rice pudding, the Swedish equivalent of our cookie offering to Santa). Sounds a lot cleaner and more practical that squeezing down the chimney!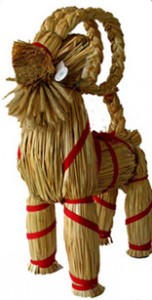 Two days before Christmas is the perfect time to decorate a Christmas tree and the living room. Some families decorate a live tree outside in the yard, while other homes have indoor Christmas trees covered in lights. Other festive tree and home decorations include gingerbread biscuits and flowers, Swedish flags on ribbons, hand-made ornaments and straw animals like billy goats.
On Christmas Eve, or Julafton, young and old gather at 3 p.m. on the dot to watch the 1958 Walt Disney Christmas animation special, "From All of Us to All of You."
Dinner that follows is quite a smorgasbord, with sausage, pickled herring, lutfisk, jellied pigs feet and meatballs for the savory course. For dessert, you can choose from lots of sweet treats, like pink caramels, mint kisses, marzipan cookies, saffron buns and gingerbread cookies, among others. A very special dessert is risgryngrot, a rice pudding with just one almond in it. Tradition has it that the lucky person who finds the almond gets to make a wish or gets a present.
Did you know that some families leave the food on the table overnight as an offering to their ancestors to partake in a great feast? Julafton is probably a great time to be a mouse in Sweden and nibble on the food left out overnight!
For more Swedish immersion, practice saying Merry Christmas in Swedish: God Jul! How about a step further? Och ett Gott Nytt Ar means Happy New Year!
Epiphany on Jan. 6 and Hilarymas, or Knut, on Jan. 20th signal the end of the Christmas season with another big feast. After the feast, Swedes "plunder" the Christmas tree by taking off the decorations and throwing the tree out of the window.
Activities
Unlike Santa, Tomte doesn''t just hand out gifts, he also makes up funny rhymes. Here''s how you can play "Tomte" games at home.
Write down the names of everyone in your family.
Add their favorite hobby next to their name.
Come up with something unique about each person and write that down too.
Using these descriptions, try to come up with a rhyme about each person. For example, if I were thinking of my Dad, his hobby of writing stories and his funny haircut, I would bust this rhyme:
"Dad, I really love the clever stories you write,
You''re a tall bald dude, and you''re always right."
One of the sweet treats served on St. Lucia is called lussekatt, which means a "Lucia cat." Don''t worry, we won''t be cooking cats! Lussekatt is a Swedish traditional recipe for saffron buns.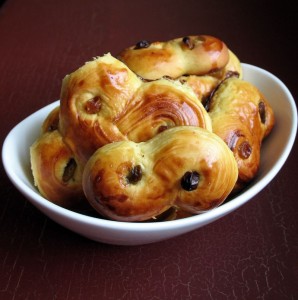 (This recipe is from the food blog, One Perfect Bite)
8 tablespoons (1 stick) unsalted butter
1-1/3 cups milk
1 teaspoon saffron threads, chopped fine and soaked in a few drops of water
1 tablespoon active dry yeast
2/3 cup sugar
1/2 teaspoon salt
2 eggs, divided use
4 cups unbleached flour + flour for kneading
Raisins for garnish
Makes: 18 buns
Directions:
1) Melt butter in a small saucepan set over medium heat. Add milk and saffron and heat until just until warm. Pour into bowl of an electric stand mixer. Sprinkle yeast over milk and let it sit for 5 minutes. Add sugar, salt, 1 egg and 2 cups flour. Beat with paddle attachment until smooth and well combined, about 2 minutes on medium speed. Add final 2 cups of flour. Using dough hook, beat until mixture is smooth and begins to climb beater. Transfer dough to a lightly floured surface and knead until perfectly smooth. This dough has a wonderful velvety texture to it. Place in a greased bowl, turn once to coat all surfaces, and let rise, covered, in a warm place until doubled in bulk, about 1 hour.
2) Line a baking sheet with parchment paper. Preheat oven to 400F. Punch dough down, roll into a cylinder 36 inches long. Cut 18 2-inch pieces from cylinder. Roll each piece into a 10-inch rope. Form each piece into an S, spiraling ends to form a figure eight. Transfer pieces to a prepared baking sheet. Let rise, covered, until doubled in size, about 45 minutes. Brush buns with reserved egg. Tuck raisins into spirals at each end of figure eight. Bake for 15 minutes, or until golden brown. Yield: 18 buns.

---
SHARE THIS: