New Year's Eve Around the World!
Let's welcome the new year in true international style! We've traveled to Spain, Brazil and Russia to get a glimpse of New Year celebrations across the world. Whether you spend your New Year's Eve home with the kids banging pots and pans at midnight or toasting champagne with your friends, we hope you find inspiration from these little slices of the world.
Spain: Doce Uvas
This fun and easy New Year's Eve tradition adds to the list of reasons why everyone loves Spain. Family and friends gather, some inside warm homes and others in town squares, to watch the clock tower and devour doce uvas (twelve grapes). With each strike of the clock at midnight, one grape is eaten. If you successfully manage to eat all twelve grapes in beat with the twelve strikes you will have good luck for the twelve months of the coming year. A popular place in Spain for New Year's Eve is Puerto del Sol in Madrid, where the famous clock tower counts to midnight for the entire country. This fun tradition is still carried on by nearly all Spaniards.
Brazil: Copacabana Beach and Lemanjá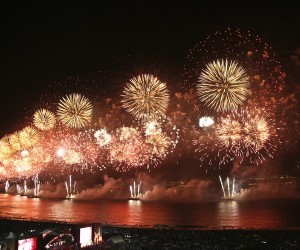 Rio de Janeiro is the place to be for Réveillon (New Year's Eve) in Brazil.
Millions of people dressed in white gather on and around Copacabana beach to send a New Year's wish to Lemanjá, the goddess of water.
She is said to answer wishes on New Year's Eve to those who send offerings of flowers and gifts to the ocean on small blue and white wooden boats.
A spectacular fireworks show lights up the sky for Réveillon and not a spec of sand goes untouched.
Russia: Happy Old New Year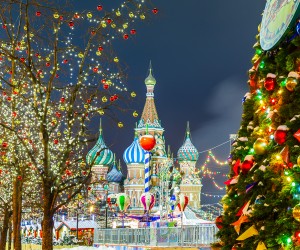 You may have tangled yourself in lights this year decorating everything from the mantle to the tree, but stick with us and we'll guide you through this string of Russian holidays tangle-free.
First, let's skip December 25th and jump to December 31st. Exit Santa Claus stage left, enter Ded Moroz (Grandfather Frost) front and center. Ded Moroz arrives on New Year's Eve with his granddaughter Sneguritchka (Snow Girl). They deliver presents to children under the Novogodnaya Yolka (New Year Tree) that is decorated with sweets and topped with a bright star. Second on the holiday list is Christmas Day, which in Russia is on January 7th. With presents and fairy tales already exchanged, Christmas Day is more focused on the religious meaning of Christmas. Last, but certainly not least, is Old New Year's Day. You heard that right, Old New Year's day on January 14th is not an official holiday, however, it is still widely celebrated in Russia.
We hope you have a wonderful time celebrating the start of the new year with your friends and family. Thanks for traveling with us and Happy New Year!
If your child loves learning about different countries and cultures, check out our World Edition subscription. Each month, they'll get to explore a new country through activities, recipes, crafts, and more! Shop here.
SHARE THIS: