Guest post by Malia Hollowell
Cinco de Mayo is a celebration of several things. For some, it is a commemoration of the Mexican Army's triumphant victory in the Battle of Puebla. For others, it is an opportunity to honor Mexican heritage and pride.
I am excited to pass on four of my favorite Hispanic-American children's books for you to share with your family.
Scroll down to see my list, as well as suggested activities that connect to each book.
Abuela by Arthur Dorros
A little girl and her abuela (grandmother) share an amazing imaginary adventure highlighting the grandmother's rich Hispanic heritage. The story is a wonderful introduction to Spanish language and the limitless possibilities of a child's imagination.
*Activity Tie-In: A perfect follow up for this story is creating a list of words you and your child can translate into Spanish. You will have an impressive start after reading Abuela.
*  *  *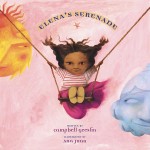 Elena's Serenade by Campbell Geeslin
Elena loves to watch glassblowers create beautiful treasures as if by magic. She dreams of mastering the craft herself but her father insists that girls cannot be glassblowers. Determined to achieve her dream, Elena sets out on a courageous journey to master a new skill and prove that girls are just as capable as boys.
*Activity Tie-In: After reading Elena's Serenade, talk to your child about the lesson Campbell Geeslin hoped to convey. Then discuss what is the same and different about Elena's personality and your child's. Character comparisons are an excellent way to help your child connect stories to his or her own life.
*  *  *
A Chair For My Mother by Vera B. Williams
This Caldecott Honor Book is a classic. After Rosa's family possessions burn in a fire, the little girl, her mother and her grandmother save their coins to purchase a new chair. A Chair For My Mother highlights the joy of working together to reach a common goal.
*Activity Tie-In: What better way to connect this story to your child's life than by helping him select one thing he would love to buy and then work together to collect enough coins to make his dream a reality?
*  *  *
Too Many Tamales by Gary Soto
As a young girl named Maria helps make tamales for her family's Christmas party, she accidentally misplaces her mother's ring. This delightful story captures the magic of children's problem solving and parents' forgiveness.
*Activity Tie-In: Eating snacks tied to stories is one of my all time favorite ways to connect to books, and after reading this story I guarantee your family will be craving tamales. Be prepared to roll up your sleeves and get a little messy as you knead and shape your own homemade batch.
You can also try the salsa and guacamole recipes right here on the Little Passports blog!
What other Hispanic-American stories would you add to the list? Share in the comments below.
Looking for more fun with reading? See below! 
9 Children's Books to Welcome Spring!
4 Tips for Raising a Life-Long Reader
*  *  *
Malia Hollowell is a National Board Certified elementary teacher. Her blog, called Playdough to Plato, shares hands-on activities that parents use to help their child learn to read. Visit her site at www.playdoughtoplato.com.
[Image from arthurdurros, betterworldbooks, goodreads, and openlibrary.]