December falls during the summertime in South Africa. Therefore instead of dreaming of a white Christmas, people enjoy hot weather and beautiful, blooming flowers. The glowing sunshine and warm weather make going outdoors almost irresistible— for people to go camping or swimming at the beach around the holidays! It is also the perfect time for a braai, or barbeque.
South Africans also integrate many different cultures' traditions into their Christmas celebrations. For example, they enjoy mince pies, originally from England, and Malva pudding, a traditional South African dessert with Dutch origins.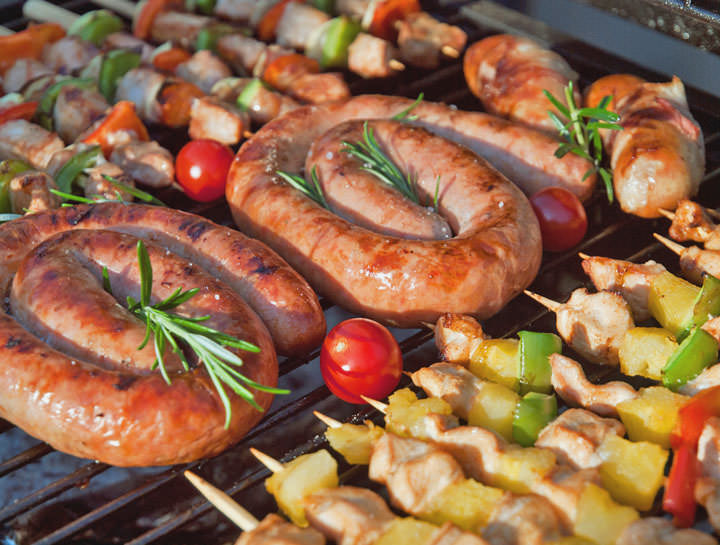 One favorite holiday tradition is a braai, or barbeque, which is an important South African social custom. While there are a variety of foods, meats are the highlights—for example, boerewors, a thick beef sausage. Another tasty treat are braaibroodjies–toasted cheese sandwiches. Friends and family converge at these social gatherings to spend time and celebrate Christmas with their loved ones! Geseënde Kersfees (Merry Christmas) from South Africa! Host your own South African BBQ this holiday season. Learn how to make braaibroodjies below!
Braaibroodjies are a delicious addition to any South African barbecue. They are similar to grilled cheese, but are made on the BBQ!
To make a braaibroodjie, butter the inside of slices of sandwich bread. Keep the outside dry so it can develop a nice crunch and toasty flavor.
Then layer slices of cheese, onions, and tomatoes on the inside of each sandwich.
Time to grill! Arrange the sandwiches inside a barbecue basket.
Cook evenly, letting each sandwich toast for about 5 minutes on each side
Remove the BBQ basket from the grill. Let cool for five minutes.
Serve the sandwiches and enjoy!