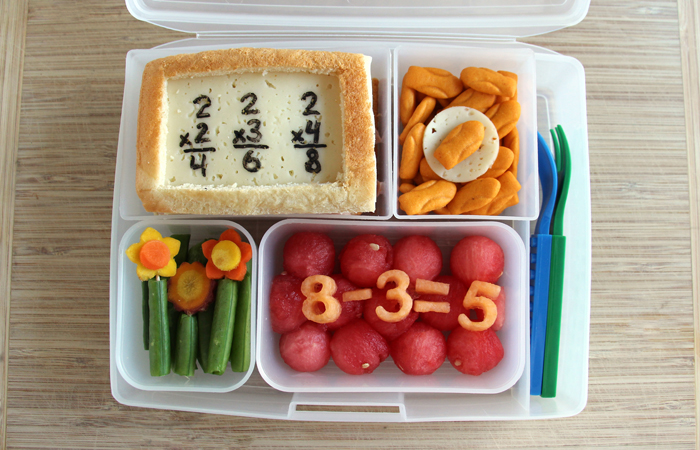 Math and Science Bento Box
Start the new school year off right with a fun lunch that encourages your child's love of math and science! Kids will love to help prepare this adorable and tasty bento box as they show off their knowledge of astronomy and botany and wow you with their math skills.
Here's how to do it:
Ingredients
watermelon
cantaloupe
sugar snap peas
multi-colored carrots
sandwich bread
sliced harvarti cheese
sliced ham
rocket-shaped cheese crackers
Equipment
divided lunch box
small number cutters
small flower cutters
toothpicks
small circle cutter
black food coloring marker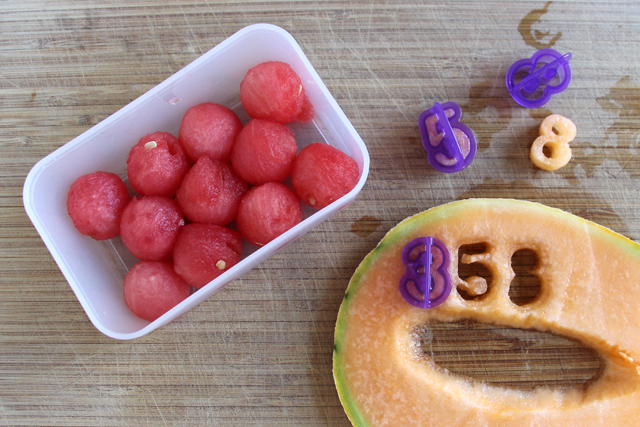 Begin by adding a layer of watermelon chunks to one of the larger containers in the lunch box. Cut a thin slice from the cantaloupe (about 1/4 inch thick) and use the number cutters to cut number for a math equation from the melon slice. Let your child choose the equation — simple addition or subtraction for a younger child, multiplication or division for kids in upper grades. Place the numbers on top of the watermelon to spell out the equation.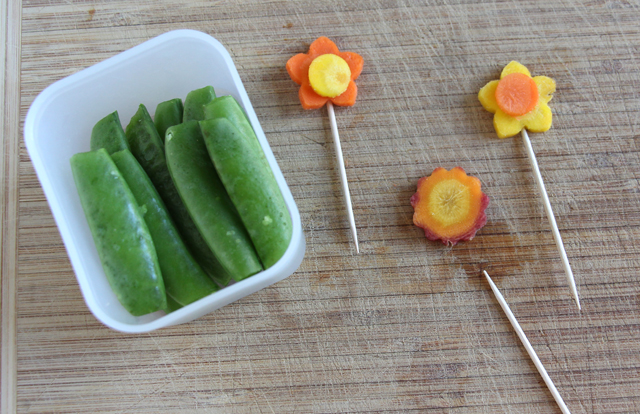 Next, layer some sugar snap peas in the bottom of one of the smaller containers. Cut slices from the widest end of the carrot and then use small flower cutters to create decorative shapes. Carefully insert toothpicks into the side of each carrot flower.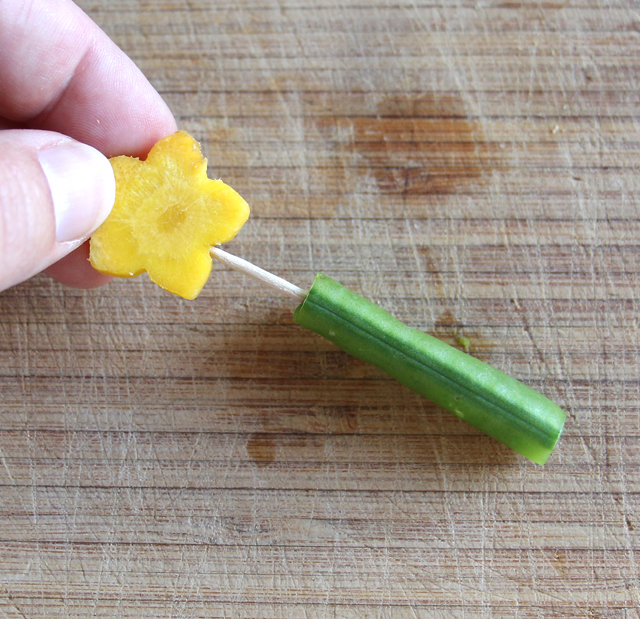 Thread a sugar snap pea onto each toothpick to represent the flowers' stems. Trim the pea pods and toothpicks if necessary and add them to the container.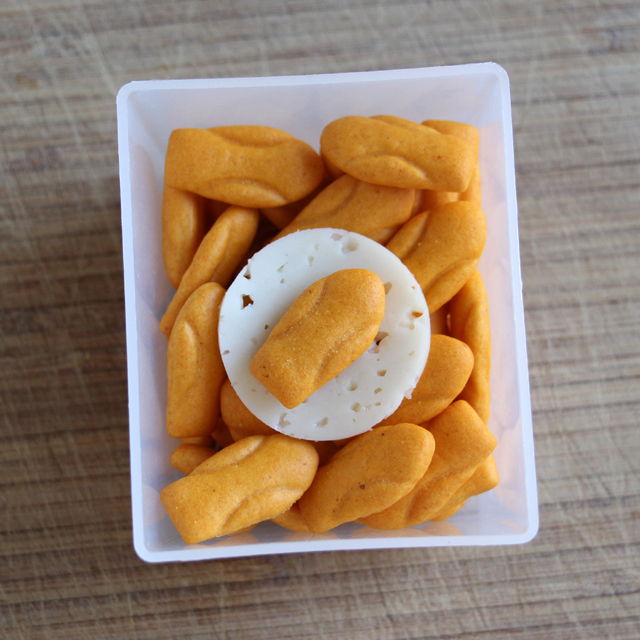 Add a big handful of the rocket crackers to the second small container. Use a circle cutter to cut a "moon" from a slice of the Havarti cheese (swiss cheese works well for this too because the holes look like craters!). Add the cheese to the crackers then top with another rocket cracker.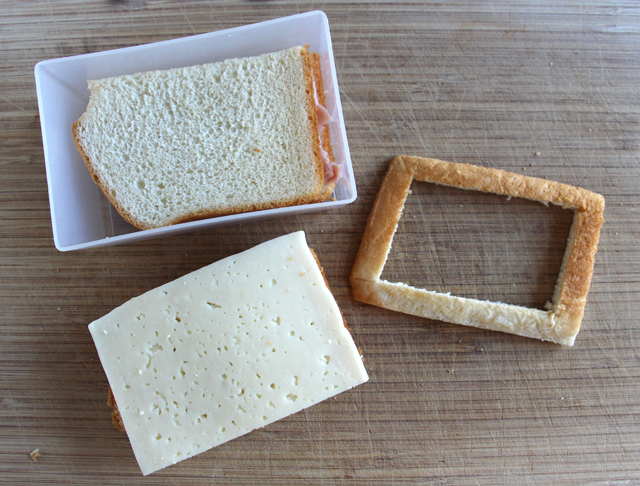 Finally, make a sandwich using the leftover cheese from the moon cut-out, ham and any veggies or condiments your child likes. Cut the sandwich in half and stack the two halves on top of each other in the remaining lunch box container. Trim another slice of cheese to fit the dimensions of the container. This will be a classroom "white board". If you like, you can also make a frame for the "white board" by trimming the brown end-slices of the bread (also known as the "heel") to the same dimensions as the cheese slice and then cutting out the middle. This is optional, but it gives the "whiteboard" a nice look.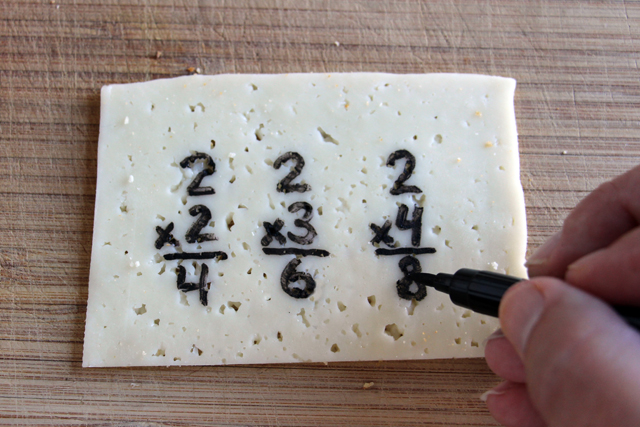 Write a few math problems on the cheese using a food-coloring marker. This step is perfect for your child to do!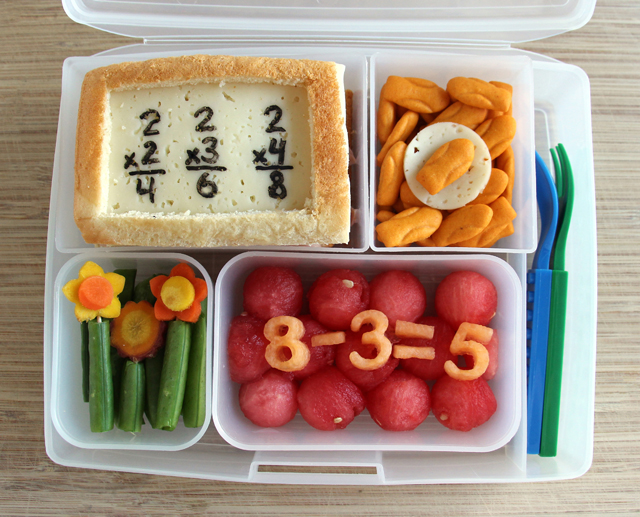 Put all the small containers inside the lunch box and pack it up for a fun lunch time treat!
SHARE THIS: