Make Decadent Chocolate Easter Eggs
Contributed by Brandy Nelson
When we lived in Columbus, Ohio, there was a fudge shop in German Village that made all sorts of confections. One spring, we made a stop there while window-shopping. They were selling giant chocolate eggs, beautifully decorated and filled with cream and other fillings. We were immediately inspired to make our own the following year!
Making your own decadent chocolate Easter eggs is easier than you might think. They are a fun and delicious treat, filled with a homemade peanut butter filling, dipped in chocolate and covered in sprinkles. Best part? The kids can help too!
Ingredients
For the peanut butter filling:
3/4 cup peanut butter
1 1/2 cup sifted powdered sugar
1 tsp. vanilla
1 Tbs. milk
For the chocolate covering:
Melting chocolates
Sprinkles
Instructions
Step 1: Mix all peanut butter filling ingredients together in a mixer until it forms a soft dough.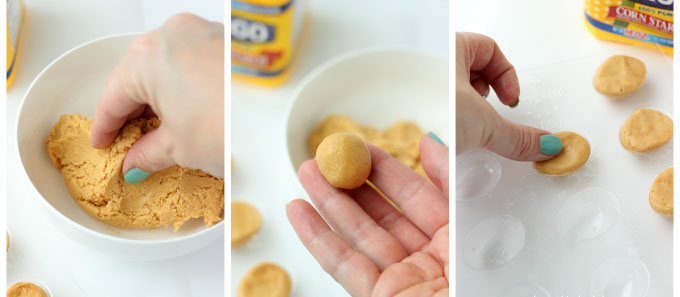 Step 2: Roll your peanut butter filling into small balls. Coat fingers with cornstarch, if necessary, to keep from being sticky. Press into egg molds OR shape with your hands into an oval shape. It is fun to play around with the sizes. You can make giant eggs or bite-size ones! Place on a waxed paper-lined baking sheet and freeze for 15 minutes.
Step 3: Remove from freezer and place tray in the refrigerator until ready to dip. It is important to keep the eggs chilled so that they keep their shape.
Step 4: Melt chocolate in the microwave at 30-second intervals (stirring after each interval) until smooth. I use an electric chocolate melting pot, which I love because it keeps the chocolate at a constant temp.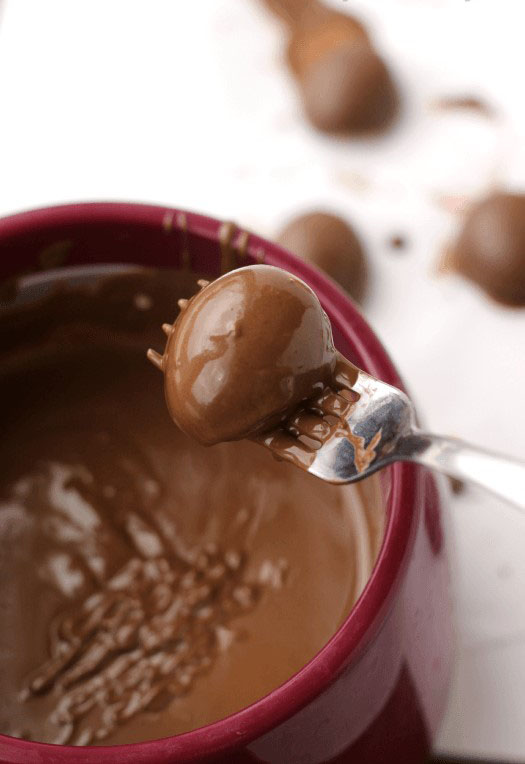 Step 5: Remove a few eggs at a time from the refrigerator and dip in chocolate, tapping fork against the side of the bowl to allow excess to drip off. Set on a baking sheet lined with waxed paper. Optional: Add sprinkles immediately before chocolate hardens or drizzle in chocolate to add fun details.
Step 6: Allow chocolate eggs to harden before removing from pan (about 15 minutes).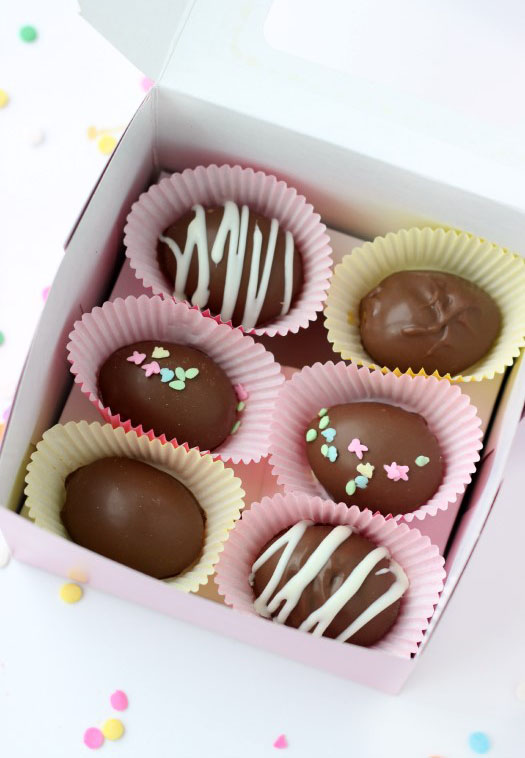 Step 7: Wrap chocolates in foil wrappers or place in mini muffin liners to serve.
Enjoy your treats or pass them out to loved ones! Happy Easter.
SHARE THIS: