Little Passports Blog Ambassador Wendy Copley is one creative mom! Even with two boys, she finds time to cook, write, and craft, and the artistic juices don't stop there. Every day, she packs creative and healthy lunches for her sons with themes ranging from holidays to cute critters. Inspired by the world images on our Back to School lunch box, Wendy has created a French-themed spread just for Little Passports! Read on to learn more.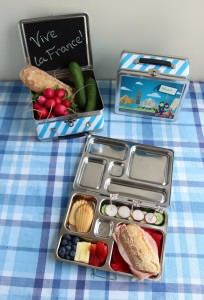 Send your child on a trip to France with this lunch inspired by traditional French treats! The centerpiece of this meal is a ham and butter sandwich on a baguette (called a "jambon-beurre" in French). It's a simple, delicious street food that's popular all over France. Accompany the sandwich with some sliced veggies, a French flag made of fruit, and a few madeleines and you have a fun lunch any child will love.
Ingredients:
baguette
sliced ham
butter or cheese
apple
blueberries
strawberries
cucumber
radish
madeleines
Equipment:
divided lunch box or insert
paring knife
toothpicks
decorative tape with a French motif
Putting it together: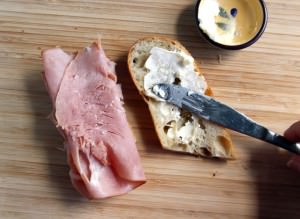 We're going to start by making the sandwich. Cut a piece from the baguette that will fit in the largest section of the lunch box, then cut the baguette in half horizontally. Spread each piece of the bread with a layer of butter, then top with ham and close the sandwich. (You can substitute cheese for the butter if you prefer.) Place the sandwich in the lunch box.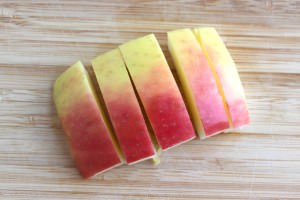 Next, we'll make a French flag from fruit using blueberries, apple and strawberries. Cut a wide slice off the side of the apple, and then trim it so it fills about a third of one of the compartments in the lunch box. Slice it, then flip it over so the white side is up and center it in the middle of the compartment. If you are worried about it browning, you can dip the apple in a little water with a squirt of lemon juice in it.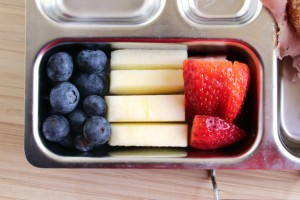 Fill in the space to the left of the apple with blueberries, and add sliced strawberries to the right side of the box. Voila! The flag of France!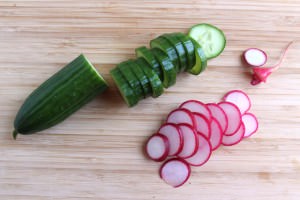 Slice the cucumber and radish. Layer the cucumber slices in another section of the lunch box, then top them with some radish slices.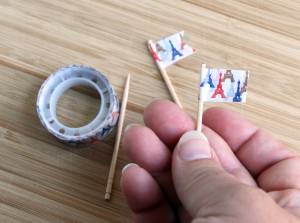 Now let's decorate the vegetables with some home made flag picks! These little guys are simple to make and you can whip three or four out in just a few minutes. Cut a piece of decorative tape (mine has the Eiffel Tower printed all over it) to a length of about one and a half inches. Wrap the tape around a toothpick and double it over onto itself. If you like, you can add a little je ne sais quoi to the flags by clipping a small triangle into the end with a pair of scissors.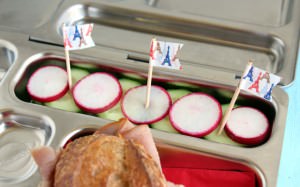 Poke a few of the flags into the vegetables for a little extra decoration.
Finally, tuck a couple of madeleines into the last compartment for a little lunch time treat.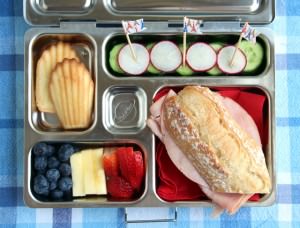 Voila! A lunch that will send you straight to the streets of Paris!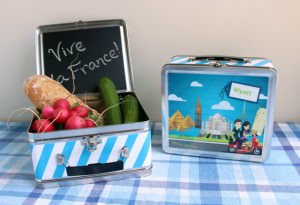 About Wendy Copley:
After receiving her first bento box as a Christmas gift, Wendy's love of crafting unique and eye-catching lunches took off. Ever since, she has perfected her style and continues to make tasty bento boxes every day. This March, she released her book,  Everyday Bento: 50 Cute and Yummy Lunches to Go which is full of tutorials on how to make your own creative lunches at home! Check out more of her healthy lunch ideas: http://wendolonia.com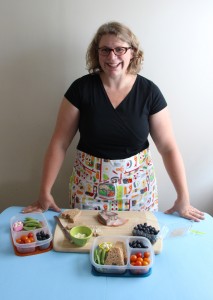 Recommended for ages 6-10


"My son looks forward to the adventure in our mailbox each month!"
-Adrian, mom of 10-year-old-son
Explore the world, one country at a time, with our fun and educational subscription.  Each package is filled with letters, souvenirs, stickers, an activity booklet, recipes, puzzles and more!