Cucumber Yogurt Dip Recipe for Kids
Recipe by Gabe Thibodeau
My family has a handful of back pocket recipes that yield delicious food in a matter of minutes. These are the dishes we throw together at a moment's notice. Not much measuring, little preparation–just some common ingredients and a dash of love.
Along with a myriad of Mexican salsas and salads, my family loves whipping up this tasty twist on a Greek classic.
Our simplified version of Greek Tzatziki is light and refreshing. It's more of a dip than a sauce and can be tweaked according to your tastes. Like garlic? Chop some up and throw it in! Olive oil? Sure, why not? A bit of chopped mint is also great. This loose recipe is all about helping you bring a bit of culture to your table at the drop of a hat.
Keep reading for the recipe. Feel free to experiment and let us know how it goes!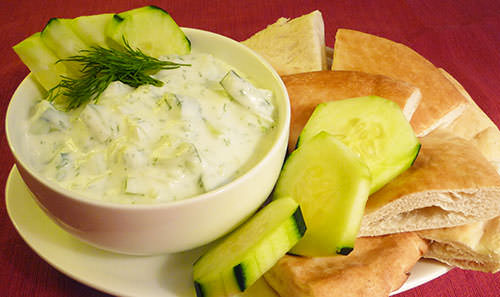 Ingredients
Equal parts plain yogurt & sour cream (about 8 ounces each)
Diced cucumber (2 small or 1 large)
1 tablespoon chopped dill
Lemon juice, salt, & pepper (to taste)
Instructions
Partially peel your cucumbers (I like keeping some of the green) and cut them in half length-wise. Scoop out the seeds with a spoon.
Dice your cucumber. You can use a food processor if you'd like, but I prefer larger pieces of cucumber, so I dice by hand. The size of the dice is up to you.
Dice your dill.
Mix all the ingredients together and stick it in the fridge for a bit so the flavors can combine.
Pair with raw veggies, pita chips, or flat bread and you're ready to eat!
Notes
*I add sour cream for a richer flavor and to keep the yogurt from getting too runny. If you aren't a fan of sour cream, you can use Greek yogurt or strained plain yogurt as your base. This recipe is also delicious using fat free products!
**Country of inspiration: Greece
https://www.littlepassports.com/blog/craft-diy/cucumber-yogurt-dip/
*  *  *
Gabe Thibodeau develops creative content for Little Passports. He grew up in San Diego where, as a child, he often awoke to the smell of roasting chilis. Look for more of his favorite family recipes on the Little Passports Blog!
SHARE THIS: