Malaysia Celebrates the End of the Rice Harvest with Gawai Dayak!
On the first day of June, the Malaysian state of Sarawak, on the island of Borneo in Southeast Asia, celebrates the end of the rice harvest with a festival called Gawai Dayak. The word gawai in the local Iban language means "festival" and Dayak refers to a group of people indigenous to the region, so the name essentially means "Festival of the Dayak People." Though officially celebrated on the first of June, festivities begin on the evening of May 31st and can continue for days. They might even continue throughout the entire month in the spirit of thanksgiving!
Gawai Dayak not only celebrates the year's rice harvest, it also serves as a time of rest before the new planting season begins in September. Rice is one of the country's major food crops and a staple in the Malaysian diet. Traditionally, Gawai Dayak is a time for families and friends to visit with each other or reunite, as well as a time to make amends.
Preparations for Gawai Dayak can start weeks in advance. Longhouses — the traditional dwellings of the Dayak people that can hold as many as thirty families — are cleaned and decorated with colorful murals. Traditional foods are prepared and tuak, a drink made from rice, sugar and yeast, is brewed.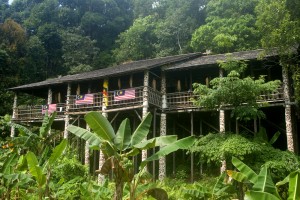 One of the main dishes eaten during Gawai Dayak is ayam pansoh, which is chicken cooked in bamboo logs sealed with tapioca leaves. Pansoh may be accompanied by large amounts of pulut, glutinous rice (which gets its name from being sticky or "glue-like") that is cooked in bamboo as well. Sweet cakes called penganan, made from rice flour, coconut milk and sugar, are also served.
In addition to feasting, the festivities include traditional drum music, dancing, poetry singing, and a pageant in which a queen of the festival is crowned. Ceremonial offerings are made to bring luck and show gratitude for the harvest. At midnight on the first night of Gawai Dayak, a gong is struck and the longhouse chief leads the gathering in a toast made with tuak. The toast ("gayu-guru, gerai- nyamai"), spoken in Iban, is translated to mean, "long life, health and prosperity!"
SHARE THIS: