Japan Celebrates Hinamatsuri!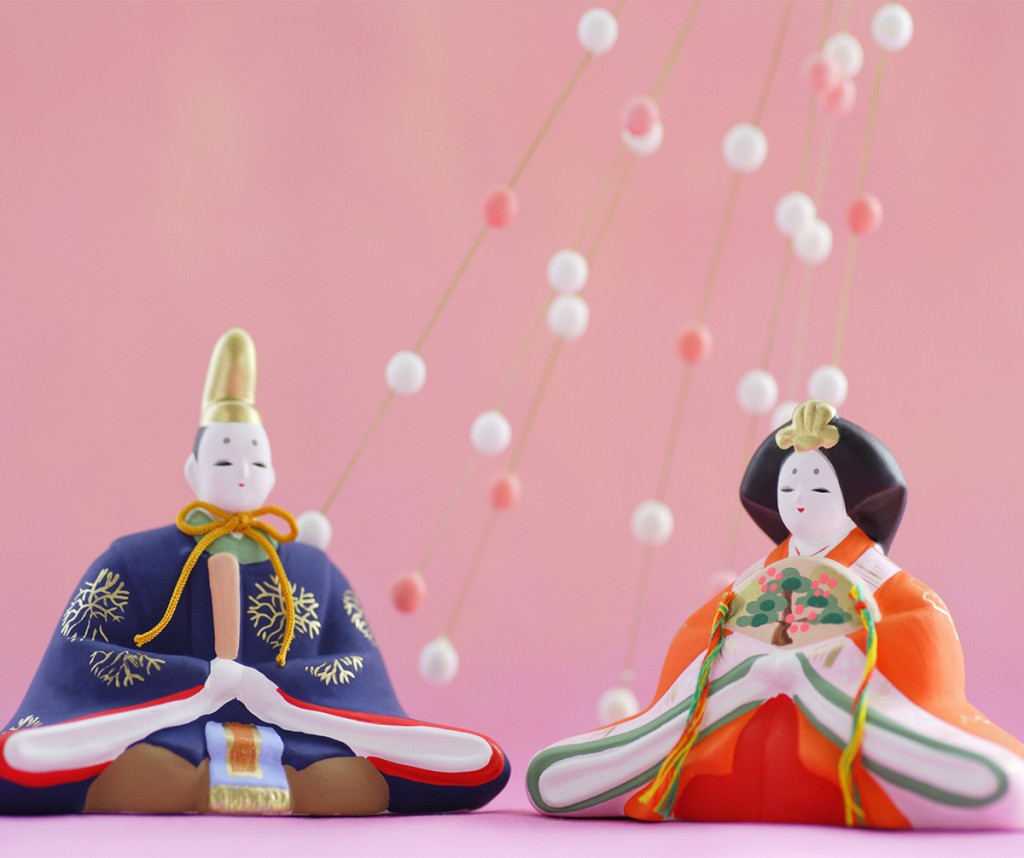 March 3rd is an exciting day for girls all over Japan – it's Girls' Day, or Hinamatsuri, as it's called in Japan. Parents all over the country celebrate their daughter's health, happiness and growth each year on this day by displaying traditional hina dolls and celebrating with family.
Hinamatsuri (meaning doll festival) traces its roots back about 1,000 years to a time called the Heian Period. The festival is celebrated by displaying dolls, called hina ningyo (ningyo means doll), dressed in elaborate kimonos, like members of the ancient Imperial Court at a spring wedding. You won't meet a Japanese family who doesn't have some type of hina ningyo display during the month leading up to March 3rd.
Traditionally, the dolls are arranged on a seven-tiered stand which is covered in red fabric. It's possible that a full-size tiered display can take up half the room!
The emperor and empress are always placed on the top tier, followed by three ladies of the court. That is followed by five musicians, two ministers and finally three servants. There are also tiers for food and drink at the bottom. These days, many families in Japan live in city apartments which don't always have room for a large display. A smaller version with simply the emperor and empress is a very popular alternative.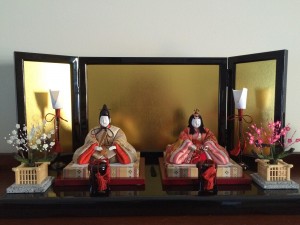 When a baby is celebrating her very first Girls' Day, many parents and grandparents take the opportunity to buy her first hina ningyo. Department stores and traditional doll stores set up elaborate displays before Girls' Day. Once you buy a set, you'll display it every year until the girls are all grown-up, so selecting the perfect set is a very important decision.
Girls help set up the displays in their homes, and families throw parties and prepare special dinners.  A traditional Japanese celebration will often include sakura mochi, which are sticky rice cakes filled with sweet red bean paste and wrapped with a pickled sakura (cherry blossom) leaf. Hishi mochi are also served. These are diamond-shaped rice cakes which have three layers in different colors, each representing something different. Pink represents chasing evil spirits away, white is for purity and green symbolizes health. Hishi mochi (in real or plastic form) will often be placed on one of the tiers of the hina doll display.
Girls all over Japan feel blessed and special during this festive time, and it is often spent celebrating with extended family and friends. Happy Hinamatsuri!
Learn more about Japan with our World Edition! Click here to subscribe.
Make your own Easter Origami Box! Click here for instructions.
SHARE THIS: