Thanksgiving Craft
This week, our crafty friend Brandy has shared her easy 4-step guide to making a Thanksgiving Around the World Turkey out of craft supplies and a small pumpkin. This is a fun craft for little globetrotters, who can learn about all the different traditions of the world!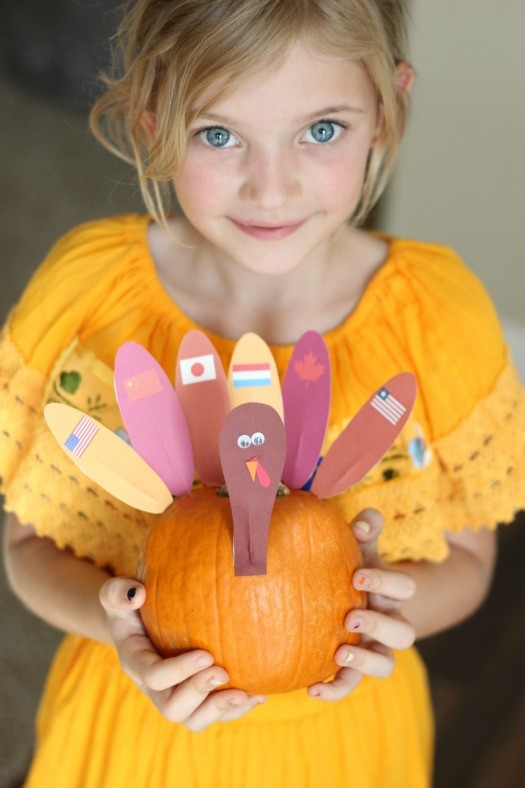 The United States isn't the only country that celebrates a day of Thanksgiving. Many countries around the world take part in a day of giving thanks, feasting with family and friends, and enjoying the bounty of harvest.
United States
In the US, Thanksgiving is celebrated the 4th Thursday in November. Modeled after harvest festivals, the first Thanksgiving occurred in 1621 in Plymouth, Massachusetts. It is a day to give thanks for the bounty and blessings throughout the year. A large feast with family and friends is typical of an American Thanksgiving. Traditional foods are turkey, mashed potatoes, pumpkin pie, cranberry sauce, stuffing, and breads.
Canada
Canada celebrates Thanksgiving on the 2nd Monday in October. In the 1500's, Frobisher, an arctic explorer, was trying to find a passageway to the Pacific Ocean. After surviving the long journey he gave thanks with a ceremony in Newfoundland. It is a day to give thanks for a bountiful crop and prosperity throughout the year. Traditional foods are roast turkey, corn, pecans, pumpkin pie, and produce.
Liberia
In Liberia, they celebrate with thanks on the first Thursday of November. Freed slaves from the United States brought with them some of the American traditions when they left and colonized Liberia. They celebrate freedom and blessings from God. Traditional foods are chicken, green bean casserole, and roasted cassavas. Cayenne and other peppers are often added to Liberian Thanksgiving dishes.
Japan
Celebrated on November 23rd, Labor Thanksgiving Day is a national holiday in Japan. Stemming from an ancient harvest ceremony, it is an occasion for commemorating labor and giving thanks to one another.
Netherlands
Celebrated on October 3rd, this day of giving thanks commemorates the hospitality that the pilgrims from Leiden received on their way to the New World. American hymns are sung and children dress in traditional pilgrim clothing during church services. Traditional foods include bread and herring.
China
The mid-autumn festival is a harvest festival celebrated on the 15th day of the 8th lunar month between early September and early October. The moon is the brightest at this time. This festival ends with a big feast. Friends and relatives send Moon cakes to each other as a way of giving thanks. The 3 fundamental concepts of the harvest festival are gathering, thanksgiving, and praying.
Thanksgiving Around the World Turkey Craft
This pumpkin turkey doubles as Thanksgiving decor and a cultural activity all in one. As you learn about the different countries and their traditions, add a feather to your turkey! Your kid can wow your guests as they share what they've learned.
Supplies:
craft glue
tape
scissors
googly eyes
small pumpkin
toothpicks
construction paper scraps
Step 1: Begin by making a small turkey head out of construction paper scraps.
Step 2: Add googly eyes and details with craft glue. Let dry.
Step 3: Cut out feathers from the feathers printable and decide which countries you would like to use. Tape a toothpick on the back of the turkey head and feathers.
Step 4: Press toothpicks firmly into pumpkin.
What a fun and festive Thanksgiving decoration for the table this year as we learn that we all have things to be grateful for, no matter where we live.
Want to read more from Brandy? See below!
Meet our guest blogger: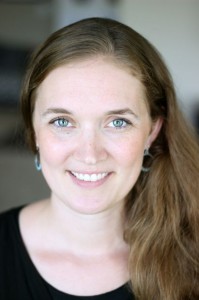 Brandy  is a California girl married to an Alaskan boy. They've lived all over the country, moving where the Coast Guard sends them, and are parents to 4 children (and a black lab puppy). Brandy has been surrounded by creative influences her entire life. Her biggest mentors being her mother and grandmother. When she grew up and started to have a family of her own, her desire to create blossomed as she turned each new house into a home. Her blog,gluesticksblog.com, is a collection of some of her favorite kids activities, projects, recipes, and craft tutorials.
SHARE THIS: