How To Say "I Love You" in Different Languages (Valentine's Day Printable)
Have you ever wondered how to say "I love you" in German? How about in Tagalog?  Our Little Passports Valentine's Day cards include "Love" and "I love you" in languages from around the world!
To share the love, simply download, print, and pass one to your valentine.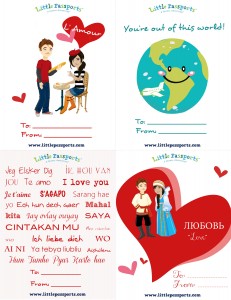 Click here to download the printable Valentine's Day cards!
Key to the Languages:
| | |
| --- | --- |
| Phrase | Language |
| Jeg elsker dig | Danish |
| Ik hou van jou | Dutch |
| Te amo | Spanish |
| I love you | English |
| Je t'aime | French |
| S'agapo | Greek |
| Sarang hae yo | Korean |
| Ech hun dech gaer | Luxembourgish |
| Mahal kita | Tagalog |
| Lay ovlay ouyay | Pig Latin |
| Saya cinta kamu | Indonesian |
| Minä rakastan sinua | Finnish |
| Ich liebe dich | German |
| Wo ai ni | Chinese |
| Ya tebya liubliu | Russian |
| Aishiteru | Japanese |
| Hum tumhe pyar karte hae | Hindi |
SHARE THIS: