Cookie Recipes from Around the World
Does your family come together to bake and share cookies? Cozy evenings around the fireplace, singing songs and decorating — all these traditions feel more festive with the aroma of cookies in the air. Families all around the world, of many different cultures, also celebrate the season with sweet, home-baked treats. In fact, it's safe to say that the love of cookies is universal. Check out these cookie recipes from around the world!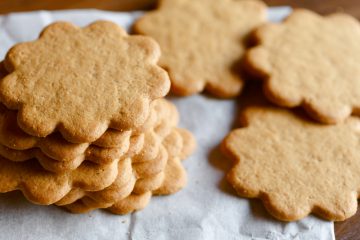 Swedish Pepparkakor
Pepparkakor are thin, crunchy ginger cookies that are eaten year-round in Sweden but are especially popular around Christmas. Holiday versions are cut into festive shapes, such as stars, gingerbread men and bears, decorated with frosting, and sometimes hung from ribbons as decorations. These spiced cookies are sold at Christmas markets in Sweden, where adults nibble them while sipping mulled wine; children will discover they are perfect paired with a glass of milk. Prepare the basic recipe (click here), use a set of holiday-themed cookie cutters for an easy approach, and introduce your family to this sweet Swedish tradition.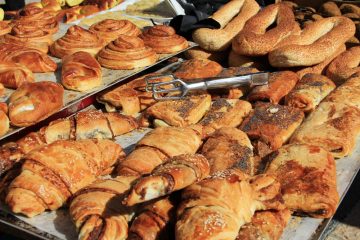 Israeli Rugelach
Bite-sized pastries, rugelach are eaten during Hanukkah (and other occasions) in Israel and throughout the world. Stories of rugelach's origins as a Hanukkah treat vary. Some link the eating of dairy during Hanukkah (including cream cheese-enriched rugelach) to the Book of Judith. These sweet treats are very versatile, with fillings ranging from chocolate to jams and dried fruit to chopped nuts. The shapes of rugelach also vary from traditional twisted crescents to easier-to-create, log-shaped rolls. So don't worry if your cookies turn out a little wonky — they will still be authentic and delicious.
Adapt the basic rugelach recipe by combining the dough with various kinds of fillings. Your kids will love making their own custom cookies. How about cinnamon and raisin? Or dried cherries and chocolate? Make the process easier for younger helpers by using refrigerated pie crusts as follows.
INGREDIENTS
2 refrigerated pie crusts
1 tbsp granulated sugar + more for sprinkling on top
1/3 cup of jam or jelly
Other possible fillings: chocolate chips, dried cherries, cinnamon and sugar, raisins, almond paste, jams or jellies, cream cheese
INSTRUCTIONS
Sprinkle 1 tbsp granulated sugar on your surface.
Roll a pie crust over the sugared surface until it's an even thickness.
Spread 1/3 cup of jam over the crust.
Roll the crust into a log shape, then trim the ends with a knife. Sprinkle the top with more sugar.
Cut the roll into thumb-width pieces.
Bake at 400 degrees Fahrenheit for 22 to 25 minutes.
Cool the rugelach on a wire rack.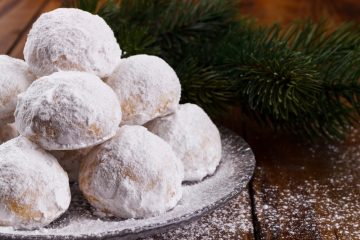 Mexican Wedding Cookies
Mexican wedding cookies are curiously named. In Mexico, where they are known as biscochitos, they are not generally served at weddings. The recipe — identical to ones for Russian tea cakes — is also believed to have its origins far from Mexico, possibly in Eastern Europe. Whatever the background is for these rich, buttery, crumbly, nutty mounds, Mexicans do enjoy them at Christmas time. With such a simple recipe, your family should too! And when your children inevitably ask why you're baking Mexican wedding cookies for Christmas, just tell them it's a mystery. Mix all the ingredients in a food processor for the simplest approach, and click here for the recipe.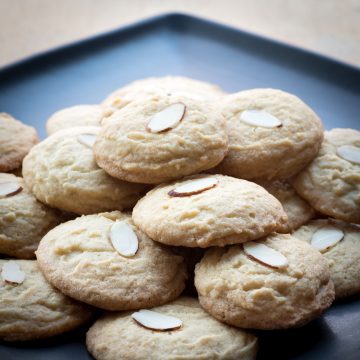 Chinese New Year Almond Cookies
Chinese almond cookies are traditionally made to celebrate Chinese New Year, but we think they'd be perfect on a chilly winter afternoon. Made to look like coins, these crunchy, buttery delights symbolize good fortune and are thought to bring good tidings for the new year. The multiple flavors of almond— almond flour, almond extract and sliced almonds— make the perfect combination for a burst of flavor!
INGREDIENTS
1 1/3 cup almond flour, lightly packed
1 cup unsalted butter, chilled and cut into cubes
Pinch of kosher salt
2 eggs
1 tsp. almond extract
1 3/4 cup all-purpose flour
1 cup + 2 tbsp. granulated sugar
1/2 tsp. baking soda
Sliced almonds
INSTRUCTIONS
Place the almond flour, butter, and salt into the bowl of a stand mixer with the paddle attachment. Beat on low speed for 3 minutes. The mixture will be coarse and chunky looking.
Add one of the eggs, reserving one for later, and the almond extract. Beat together until just incorporated.
Whisk together flour, sugar, and baking soda in a medium bowl and add to the stand mixer. Mix until just combined.
Pour mixture out onto saran wrap and form into a disc. Wrap it up and chill in the fridge for 2 hours.
Preheat oven to 325 degrees and line baking sheets with parchment paper or silicone baking mats. Beat the egg you saved in a small bowl and have a pastry brush ready.
Take pieces of dough and roll them into balls, about 1 inch wide. Place on the prepared baking sheet and gently press them down with your palms to flatten into coin shapes.
Take your pastry brush and brush the tops of the cookies generously with the egg wash then place a sliced almond on top, pressing gently to keep it in place.
Bake for 15-17 minutes or until the cookies start to turn a dark golden color on top.
Remove and let cool on baking sheets for 5 minutes before transferring to a wire rack to cool completely.
Store in an airtight container for up to 2 weeks.
Source: Simply Recipes
SHARE THIS: