Gifts for Little Foodies
Did you know that many of the Little Passports subscriptions contain a global recipe to try? That's why our products make such great gifts for kids who love food! Whether it's a gift for a toddler who loves food, or for a big kid just getting interested in cooking, food is a big part of world culture and a great way to connect with loved ones.
Our Kitchen Adventures subscription even revolves completely around food! Kids 7+ can cook, play, and connect on a global food adventure across six continents while collecting kid-friendly kitchen tools and making delicious kid-tested, kid-approved recipes from America's Test Kitchen Kids.
---
---
We've rounded up a few of our favorite recipes and food-related activities that come in the monthly packages of Early Explorers and the World Edition and included them in this special gift guide for the holidays. Get a taste of one of the best gifts for budding foodies!
Ages 6-10: World Edition Recipes
Food is a big part of a country's culture and traditions. There's a whole world out there of new tastes and smells to explore, and Little Passports delivers them to your door. World Edition makes a great gift for kids aged 6-10 who love food and can inspire young chefs to expand their culinary palate. Your child will find many recipes included in the monthly packages – here are just a few examples of the delicious treats in store. Click each recipe page to explore!
Free Printables – Click to Download
---
---
Ages 3-5: Early Explorers Food Activities & Recipes
An Early Explorers subscription is a fun gift for preschoolers ages 3-5. Preschoolers who love food will find that one of the monthly packages is devoted to exploring food around the world. In the Activity Booklet, your child will learn how to make a mini frittata, learn about global markets, see utensils around the world and so much more! Here's an example activity page: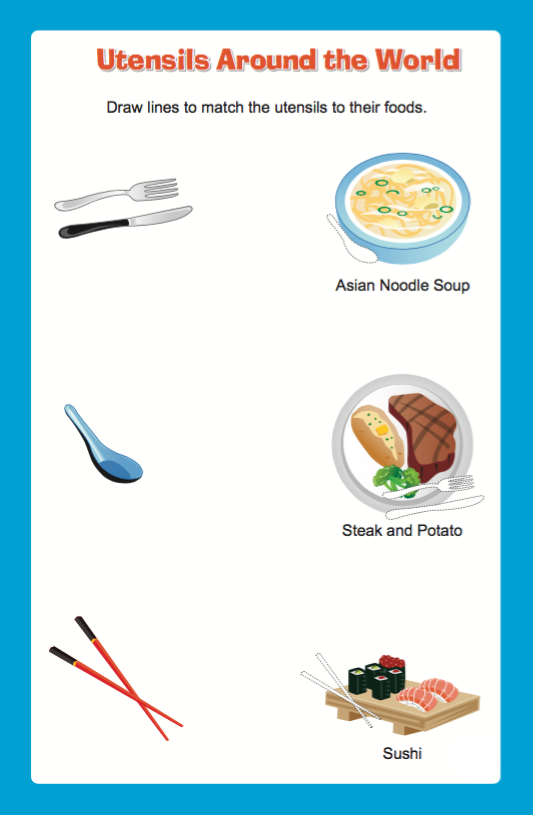 ---
---
SHARE THIS: