Christmas Traditions in Brazil
Christmas traditions in Brazil look much like that in Western Europe or America. This is because of Brazil's Portuguese heritage. There are nativity scenes, family Christmas dinners, Christmas trees and even Santa Claus! However, some things look a little different, because Brazil celebrates Christmas during their summertime, and most of the action takes place late at night on Christmas eve, including dinner.
---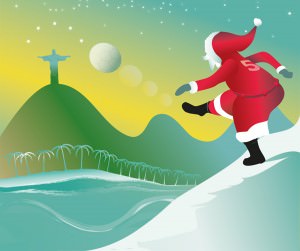 Santa is known as Papai Noel and Bom Velhinho (Good Old Man) in Brazil, and while he is delivering presents in the southern hemisphere he changes into his lighter weight Santa suit. This one is made of silk to keep him cool in the warm summer weather.
As part of the Brazilian Christmas tradition, sometimes children leave a sock near the window. If Papai Noel finds your sock, he exchanges it for a present!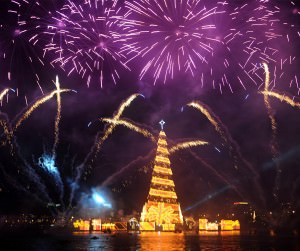 As Santa flies over the Brazilian skies, his path may be lit up by more than just Rudolph's nose. In recent years, the major cities in Brazil have decorated huge Christmas trees with neon lights and set off fireworks to mark the occasion.
Rio de Janiero boasts the world's largest Christmas tree, which floats on the Rodrigo de Freitas Lagoon. The tree weighs 542 tons and wrapped in 3.3 million light bulbs, which are lit every year during their spectacular Christmas fireworks show!
Christmas traditions in Brazil have a rich history and are always vibrant and exciting, just like Brazilian culture!
Want to know more about Christmas in Brazil? Check out our Brazil Pinterest board.
SHARE THIS: