French Christmas Tradition: Bûche de Noël
Many of us have heard of celebrating with Yule logs during the Christmas season, and French families enjoy the tradition in the form of a delicious bûche de Noël. Traditionally, a bûche de Noël, which literally means "Christmas log" in French, is a sponge cake and buttercream roulade that is modeled after the Yule log. The chocolate frosting is scored to resemble bark and the cake is typically embellished with exquisite meringue mushrooms, marzipan holly, and berries.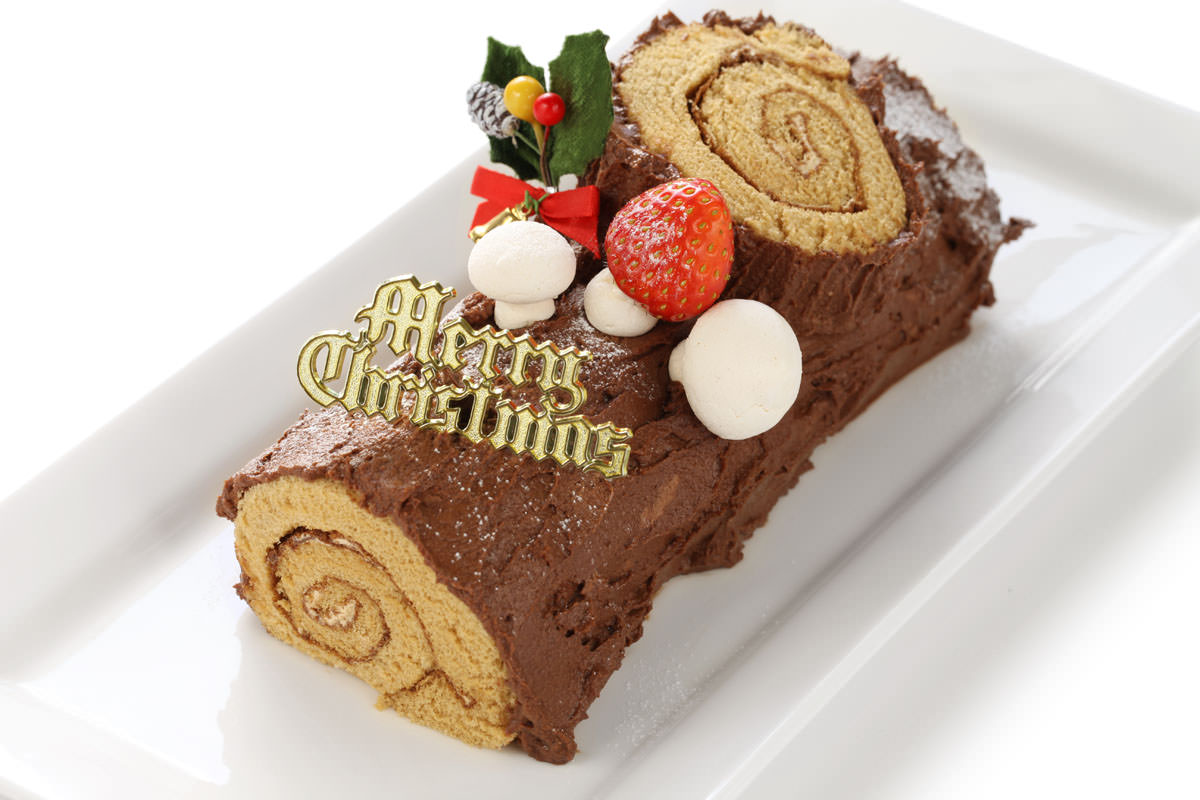 People around the world have adopted this tradition, with many bakers increasingly offering unique twists on the traditional bûche. You may be able to find many different modern interpretations of bûches de Noël at your local pâtisserie or bakery. Or, for a fun and tasty project, you can make your own bûche de Noël this Christmas by following the recipe below! Joyeux Noël (Merry Christmas), from France!
Ingredients
Butter, for the pan
⅓ cup all-purpose flour, spooned and leveled
⅓ cup unsweetened cocoa powder
¼ teaspoon fine salt
4 large eggs, separated
1 teaspoon pure vanilla extract
¾ cup plus 3 tablespoons confectioners' sugar
1 cup heavy cream
1 tablespoon sour cream
Chocolate Ganache
Instructions
Heat oven to 350° F. Butter a 9-by-13-inch jelly roll pan and line with parchment; butter the parchment. Whisk together the flour, cocoa, and salt in a small bowl.
Beat the egg yolks, vanilla, and ¼ cup of the sugar in a medium bowl with an electric mixer on medium-high until light yellow, 3 to 4 minutes.
In a separate bowl, beat the egg whites (with clean beaters) on medium-high until foamy, 1 to 2 minutes. Gradually add ½ cup of the remaining sugar and beat until stiff peaks form, 2 to 3 minutes more.
Gently fold the egg yolk mixture into the egg whites. Gradually fold in the dry ingredients. Transfer the mixture to the prepared pan and use an offset spatula to smooth the surface. Bake until the cake springs back lightly when pressed, 8 to 10 minutes. Cool.
Whip the heavy cream, sour cream, and the remaining 3 tablespoons of sugar in a medium bowl with an electric mixer on medium-high until stiff peaks form, 1 to 2 minutes.
Spread the whipped cream on the cake, leaving a 2-inch border along one of the short ends. Starting at the other short end, roll up the cake toward the uncovered border (letting the parchment fall away as you roll). Place the cake seam-side down on a serving platter. Drizzle the chocolate ganache over the top; let set for 5 minutes. Run the tines of a fork through the ganache to create "bark."
Recipe Courtesy of Charlyne Mattox
SHARE THIS: