Holiday traditions in Russia
Holiday traditions in Russia are a bit different from the western world. Most people in Russia celebrate Christmas twice! The first celebration is on the traditional Catholic date of December 25th, and then another on the ancient calendar of Julius Caesar, on January 7th.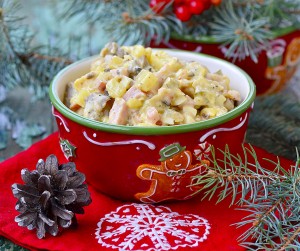 New Year's Eve is the Biggest Holiday Tradition
Although Christmas is growing in popularity, New Year's Eve is considered the biggest celebration of the Russian year. Celebrations begin late at night and continue into the early hours of the morning. People gather at each others homes or at restaurants to eat, sing, and dance.
A traditional potato salad called olivye (named after the chef who created the recipe) is almost always served. Looks delicious, doesn't it?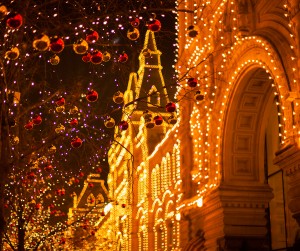 Around 11:45pm , there is a tradition to see the old year off. People raise a glass and watch (usually on television) the countdown to midnight on the clock at the Kremlin on Moscow's Red Square and listen to the president give his annual New Year's speech.
Western media has had a big impact on young people in Russia, and so they view New Year's Eve as a time to go out and celebrate with friends. Traditionally, though, New Year's Eve is a time to celebrate with family and is most similar to Christmas Eve or Christmas Day.
Father Frost and the Snowflake Girl
Most homes have a Christmas (or Winter/New Year's) tree. On New Year's Eve, or the 1st of January, Russians exchange gifts and children receive presents under the tree.
The gifts come from Father Frost, called Ded Moroz, who is always accompanied by his granddaughter, Snegurochka (sometimes called the "snowflake girl").
Christmas is a smaller celebration at the end of these winter festivities. It is marked again by family gatherings, religious observance, and delicious food!
Want to know more about Christmas in Russia? Check out our Russia Pinterest board!
SHARE THIS: