Explore New York, the Empire State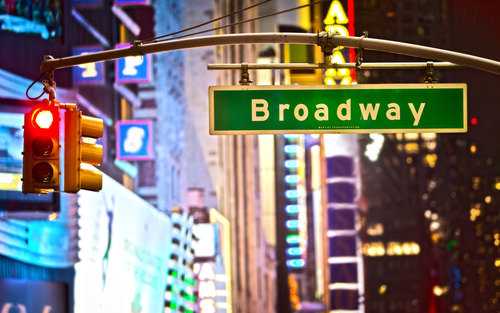 Hello,
Thanks for visiting us online! Sofia and I had so much fun in New York. In the travel journal we sent you, we already wrote about our subway and taxi rides, our time in Central Park and a bunch of other adventures. Now we're excited to share even more from our trip to the Empire State!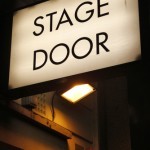 We met an actress named Alice at a restaurant in Long Island. She'd been performing on the Broadway stage for years and invited us to her show. We got to watch from behind the curtain and help the theatre crew backstage! Alice introduced us to Frank, her fellow actor. The show was a comedy. It was so funny we had to try really hard not to laugh out loud while we watched backstage.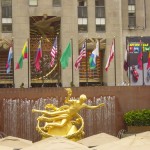 After seeing Alice and Frank's play on Broadway, Sofia and I visited Rockefeller Center, a plaza of 19 buildings in Midtown Manhattan. Some of New York's most famous businesses and performances are managed from Rockefeller Center. Sofia and I loved all the flags lining the plaza. Each one is from a different country in the United Nations.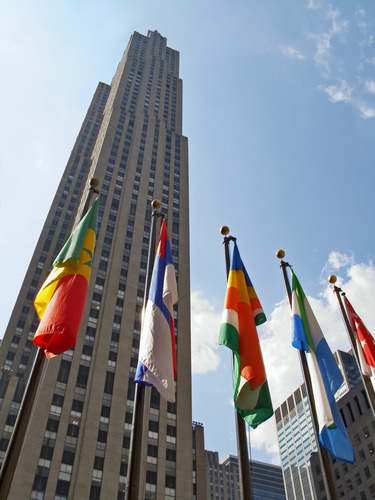 While looking at the flags, we saw two men talking to each other in the plaza. Actually, they were trying to talk to each other. Sofia noticed right away that they were speaking different languages. "I wish we could help them understand each other," she said.
I had an idea. "The scooter!" I said. "Aunt Charlie put a translation chip in the GPS."
We hopped on the scooter and rode over to the men. We introduced ourselves. One man was named Jeremy. He lived in New York and spoke English. "This is Lorenzo," he told us, motioning to the other man. "He's here on a business trip. I'm trying to give him directions."
We asked Lorenzo where he was from, pointing to the flags. He pointed at a flag with three bars: green, white and red. "Lo sono in Italia," he said. The screen of our GPS flashed: TRANSLATION ABILITY ACTIVATED. I suddenly understood: Lorenzo had said, "I'm from Italy."
It turns out, Lorenzo had a meeting at Radio City Music Hall. Jeremy said it was just around the corner. "Svolta a destra in un angolo," I told Lorenzo. (Turn right at the corner.) "Grazie!" Lorenzo answered. Even Jeremy understood that one, you could tell by his smile that Lorenzo had said "thank you."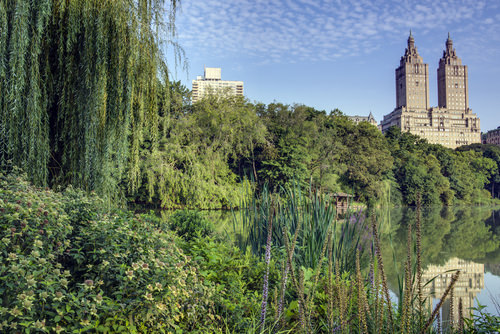 That's the amazing thing about New York. It's a meeting place for so many different people and cultures. You can find people from all over the world right here in the United States. We got to meet a bunch of them in New York, and we can't wait to meet more on our next trip.
Check out the favorites below for more adventure from our New York travels.
Your friends,
Sam and Sofia
---
Sam's Favorites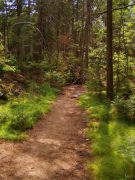 Park: Hudson Highlands State Park
I love hiking. The "highlands" around the Hudson River are areas of mountainous land. The trails are beautiful and fun to explore.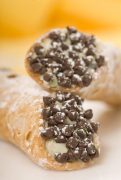 Dessert: Cannoli
New York has a vibrant Italian population. Cannoli are popular Italian pastries sold in shops and delis. They're flaky, creamy and delicious!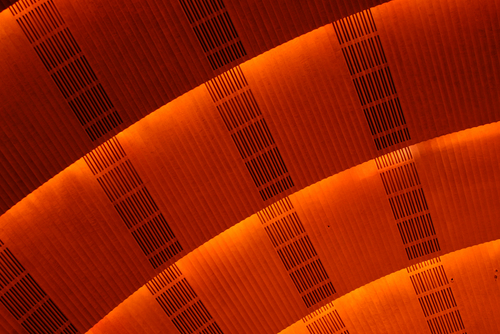 Building: Radio City Music Hall
I love music, and this theater puts on some of the best concerts and shows in the world! The curved ceiling helps the music sound its best.
Sofia's Favorites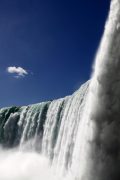 Park: Niagara Falls State Park
This is the oldest state park in the USA. Sam and I took a boat tour. I'll never forget the roar of the waterfalls. Amazing!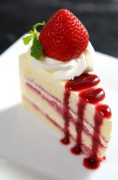 Dessert: New York Cheesecake
So creamy and sweet! I love almost all desserts, but this is definitely one of my new favorites. Thanks, New York!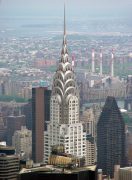 Building: The Chrysler Building
I love the design of this skyscraper. The top of the building was made to look like a crown.
---
SHARE THIS: