Cofounder Stella Ma Shares Her Chinese New Year Traditions
Stella Ma, Cofounder and former Co-CEO of Little Passports, shared her family's annual Chinese New Year traditions with us back in 2017. Thanks, Stella!
Happy Chinese New Year and Year of the Fire Rooster! I grew up in a fairly traditional Cantonese-speaking family, and Chinese New Year has always been a very special holiday for me.
As a young child, I knew Chinese New Year took place around the beginning of the year, but I didn't fully grasp that the date was tied to the lunar calendar. I recall my mom pulling out a large Chinese calendar book and flipping through the pages to find the exact date.
Our excitement built as the day approached and preparations were made.  We cleaned the house before the holiday because we didn't want to risk sweeping out good luck after the New Year.  By the same logic, we observed not washing our hair on New Year's Day for fear that we might wash away good fortune.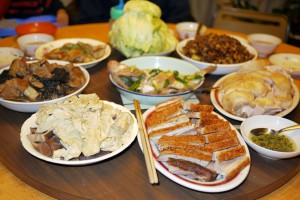 Lots of planning went into getting ready for the traditional New Year's Eve family reunion dinner.  I particularly enjoyed the shopping trips my mom and I took to Chinatown to purchase the special ingredients.  The food we served was auspicious and symbolic, with the names of many of the dishes sounding like the Chinese pronunciations for "good fortune, happiness or longevity."
Dishes and ingredients included chicken, roast pork, Chinese hair fungus, lettuce, dried oysters and fish.  My favorite dish, which involved a labor-intensive mincing of many ingredients, was the dried oyster lettuce cups (with the Chinese name of the dish sounding like good business). I would stand next to my mom and watch her take great care as she prepared all the ingredients.  When we got a food processor, I thought it would finally bring my mom some relief, but she still insisted on hand-chopping everything.
We always started New Year's Day with a special vegetarian meal.  Because my dad left early in the morning for work, I would go to bed excited, knowing that my mom would wake us all up around 5 am so we could share the meal as a family.  In the morning, we would wish my parents a happy new year and good health for the coming year in Cantonese and then we would eat a piece of candy to ensure sweetness for the new year.  My mom would give us lycee (red envelopes) filled with lucky money.  After breakfast, we would dress in something red to symbolize good luck and head off to school.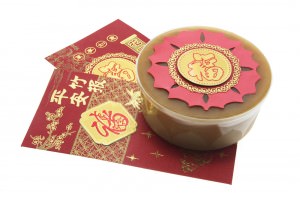 The weeks following involved visits to my relatives where we would bring and exchange bags filled oranges, sweets and other treats.  It was a multi-week rotating house party!
When I moved out and got married, I appreciated the annual tradition of coming together as a family to celebrate even more.  Every year, I call my parents on the morning of the new year to wish them a happy new year.  It's traditional that only married couples give out red envelopes, so I find myself always scrambling to get them prepared and feeling extra lucky if I managed to get brand new bills from the bank.  (I no longer observe the no washing hair tradition, and my mom looks the other way.)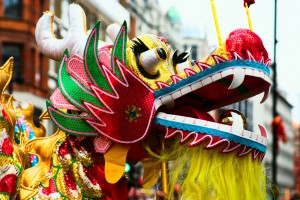 As a mom myself now to two young boys, I cherish sharing and passing along the traditions. On New Year's morning, I give my sons each a piece of candy with their red envelopes. Being given candy for breakfast makes them feel like they have the best mom ever! They also love going to Chinatown and watching the lion dancing, and we've had many ad hoc lion dance performances at home using makeshift drums and lion costumes fashioned out of blankets.
Gung Hay Fat Choy (as we would say in Cantonese, or in Mandarin, Gong Xi Fa Cai) to the Little Passports community!
-Stella
Want to know learn more about Chinese New Year? See below!
SHARE THIS: