Road Trip Day 3: The Southwest & California
Our last day brings us to the other side of the country, where we'll camp in an unusual desert motel and hunt for treasure at a California beach!
Wigwam Village Motel #6 — Holbrook, AZ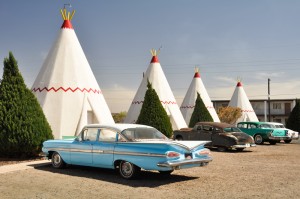 Try saying the name five times fast. Then stretch your legs—and maybe stay the night—at this funky attraction, located off Route 66 in the hot Arizona desert. You might think the fifteen concrete-and-steel cone-shaped abodes look more like teepees than traditional wigwams, and you're right. The structures are indeed shaped like teepees, but the architect Frank Redford, who pioneered the original design and village in Kentucky in 1937, preferred the name "wigwam", and it stuck. A year later, in 1938, a man named Chester E. Lewis bought the plans and went on to build seven more Wigwam Villages around the country. The Arizona motel is one of only three remaining today (the others are in Kentucky and California). Each wigwam has original handmade hickory furniture and one or two beds, with a small bathroom.
Glass Beach — Fort Bragg, CA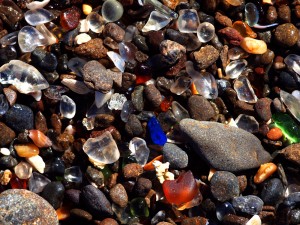 The sparkle on this stretch of Mendocino County coast came from a most unlikely source: discarded trash.  Starting in the early 1900's, residents used the beach as a dump, throwing everything from cans and bottles to appliances, and even old cars, over the cliffs and into the ocean. Luckily, in 1967, the California state government put an end to the dumping because of the harm it was doing to both the ocean and coastal ecosystems. Over time, the sea has churned back the glass and debris and today the shore glitters with millions of colorful glass "pebbles" that have been tumbled smooth by the pounding waves. Kids and adults alike enjoy searching the shore to search for rarer pieces like "ruby reds", fragments of old car tail lights, or "sapphire gems," hunks of blue apothecary bottles. Make sure to take only pictures of what you find, though; the beach is now a state park, so pocketing your discoveries is not allowed. Treasure the memory instead and help preserve the beach's unique beauty for future visitors to enjoy!
SHARE THIS: