Road Trip Day 1: The South and the East Coast
Join Little Passports as we present Sam and Sofia's 3 day road trip to the different corners of the U.S.A! Check back every day for the latest post. 
The arrival of summer means a lot of things: no more school, longer and hotter days, plus all the ice cream your parents will let you eat! It also means time to vacation. Sam & Sofia love traveling all over the globe, but as our USA Edition subscribers know, the United States is also chock full of places to explore. One of the best ways to explore them is by packing up the car and hitting the road. We planned a three-day road trip to take you to some of our favorite destinations in different corners of the U.S. You'll play carnival games and eat scrumptious treats, travel to space and back in time and wind up in abandoned towns and glittery beaches. Our only rule? Buckle up!
ROAD TRIP DAY 1: The South & the East Coast
Our first day starts in space and ends in a coastal spot that will take you back to the days before iPads, computers and cell phones existed. We promise it'll be just as much fun.
U.S. Space & Rocket Center – Huntsville, AL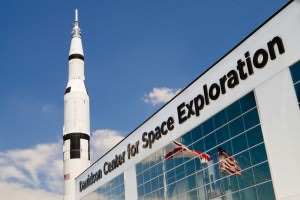 A full day's worth of cool discoveries awaits you at the U.S. Space & Rocket Center, the official visitor center for NASA's Marshall Space Flight Center. It is also the site of the country's first Space Camp, which hosts popular programs for kids and grown-ups alike.
Lift off at the Main Exhibit to see original Mercury and Gemini capsule trainers used by US astronauts in the 1960s. Imagine yourself in orbit in the space travel simulator, then head to the Saturn V Hall to check out the Saturn V Rocket, one of only three still in existence. These rockets launched astronauts into orbit between 1966 and 1973 and remain the tallest, heaviest and most powerful rockets ever to be used! Outside, Shuttle Park brings you up close to a full-scale space shuttle. At the end of your visit, kick back with a movie at one of the center's three space-themed theaters, including the IMAX Spacedome.
New Jersey Boardwalks — The Jersey Shore
New Jersey's iconic beach boardwalks bring you back to Earth—and back in time. Boardwalks started in Atlantic City, where the first stretch of elevated walkway was built in 1870. Today New Jersey boasts some two dozen of these coastal wooden pathways (the most in the U.S.), each with its own colorful mixture of carnival games, amusement park rides and classic boardwalk food, like saltwater taffy and calzones. Families especially love Jenkinson's Boardwalk at Point Pleasant Beach, which contains tons of fun rides (like a carousel, a Tilt-A-Whirl and a sky-high Crazy Bus) and an aquarium filled with sea creatures. Another favorite is the two-and-a-half-mile long Wildwoods Boardwalk in southern New Jersey, which has three amusement park piers, three beachfront waterparks, electric Sightseer Tram Cars and hosts the National Marbles Tournament every June!
SHARE THIS: