Follow Sam and Sofia on a Road Trip Across the USA!
The arrival of summer means a lot of things: no more school, longer and hotter days, plus all the ice cream your parents will let you eat! It also means time to vacation. Sam & Sofia love traveling all over the globe, but as our USA Edition subscribers know, the United States is also chock full of places to explore. One of the best ways to explore them is by packing up the car and hitting the road. We planned a three-day road trip to take you to some of our favorite destinations in different corners of the U.S.  Our only rule? Buckle up!
ROAD TRIP DAY 1: The South & the East Coast
Our first day started in space and ended in a coastal spot that took us back to the days before iPads, computers and cell phones existed. To our surprise, it was just as much fun.
U.S. Space & Rocket Center – Huntsville, AL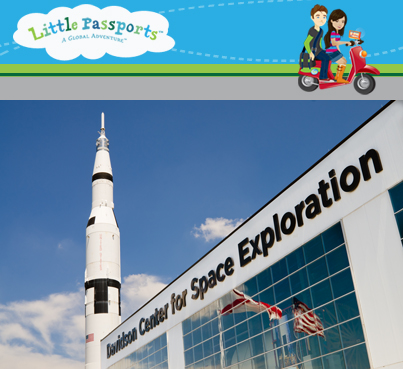 A full day's worth of cool discoveries awaits you at the U.S. Space & Rocket Center, the official visitor center for NASA's Marshall Space Flight Center. It is also the site of the country's first Space Camp, which hosts popular programs for kids and grown-ups alike.
Lift off at the Main Exhibit to see original Mercury and Gemini capsule trainers used by US astronauts in the 1960s. Imagine yourself in orbit in the space travel simulator, then head to the Saturn V Hall to check out the Saturn V Rocket, one of only three still in existence. These rockets launched astronauts into orbit between 1966 and 1973 and remain the tallest, heaviest and most powerful rockets ever to be used! Outside, Shuttle Park brings you up close to a full-scale space shuttle. At the end of your visit, kick back with a movie at one of the center's three space-themed theaters, including the IMAX Spacedome.
New Jersey Boardwalks – The Jersey Shore
New Jersey's iconic beach boardwalks bring you back to Earth – and back in time. Boardwalks started in Atlantic City, where the first stretch of elevated walkway was built in 1870. Today New Jersey boasts some two dozen of these coastal wooden pathways (the most in the U.S.), each with its own colorful mixture of carnival games, amusement park rides and classic boardwalk food, like saltwater taffy and calzones. Families especially love Jenkinson's Boardwalk at Point Pleasant Beach, which contains tons of fun rides (like a carousel, a Tilt-A-Whirl and a sky-high Crazy Bus) and an aquarium filled with sea creatures. Another favorite is the two-and-a-half-mile long Wildwoods Boardwalk in southern New Jersey, which has three amusement park piers, three beachfront waterparks, electric Sightseer Tram Cars and hosts the National Marbles Tournament every June!
ROAD TRIP DAY 2: The Midwest & The West
On day 2, we drove from the middle of the country to one of the first frontiers of the American West, exploring history that's both sweet and spooky.
Funks Grove Pure Maple Sirup – Funks Grove, IL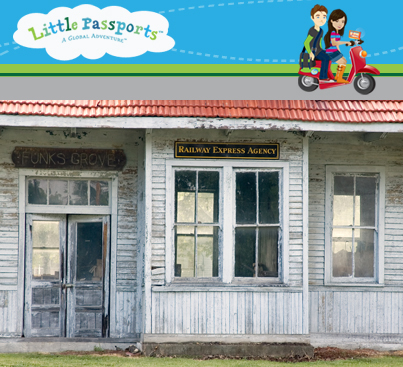 Your sweetest stop yet! It's located on Historic Route 66, the famous U.S. highway that runs for nearly 2,500 miles between Chicago and Santa Monica. That's where the Funks of Funks Grove Maple "Sirup" began making their namesake treat way back in 1824. That's when Isaac Funk staked out a piece of land for its fertile soil, and ample amounts of water and timber. Isaac's grandson, Arthur, opened the first commercial sirup farm there in 1891 and the business has been passed down through the family ever since. Arthur's cousin, Hazel Funk Holmes, declared her desire to keep the spelling of sirup with an i and included this wish in her will to ensure it would remain so forever. At the time, this special spelling indicated that no extra sugar was added to the irresistible gooey liquid. Today you can taste the difference when you visit the shop.
St. Elmo Ghost Town – Chaffee County, Colorado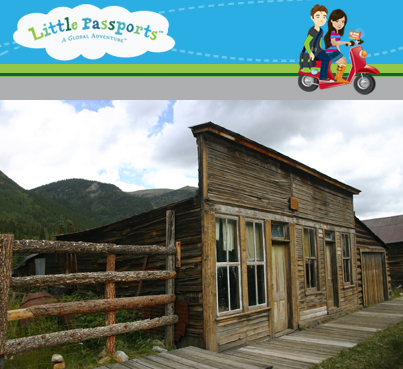 Don't worry; even though St. Elmo may be called a ghost town, it isn't spooky! St. Elmo is often referred to this way because eventually, all of its citizens moved away and left the town abandoned! St. Elmo, founded in 1880, was like many other Colorado towns that sprung up during the mining boom. Gold and silver miners rushed to the state eager to find their fortunes and they needed a place to stay, so communities of houses, general stores and livery stables were quickly built. Many of these new towns were abandoned once the supply of riches dwindled. St. Elmo is one of the best-preserved of these towns, and day trippers continue to visit its old-timey streets. Make sure to stop by St. Elmo General Store for ice cream and a fun mix of souvenirs and antiques. If you're feeling adventuresome, rent a four-wheeler to tackle nearby dirt roads or search for the town's last remaining residents – chipmunks!
ROAD TRIP DAY 3: The Southwest & California
Our last day brought us to the other side of the country, where we camped in an unusual desert motel and hunted for treasure at a California beach!
Wigwam Village Motel #6 – Holbrook, AZ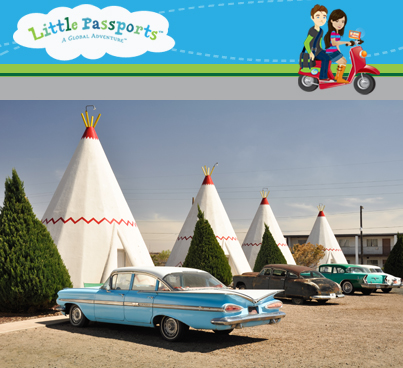 Try saying the name five times fast. Then stretch your legs – and maybe stay the night – at this funky attraction, located off Route 66 in the hot Arizona desert. You might think the fifteen concrete-and-steel cone-shaped abodes look more like teepees than traditional wigwams, and you're right. The structures are indeed shaped like teepees, but the architect Frank Redford, who pioneered the original design and village in Kentucky in 1937, preferred the name "wigwam", and it stuck. A year later, in 1938, a man named Chester E. Lewis bought the plans and went on to build seven more Wigwam Villages around the country. The Arizona motel is one of only three remaining today (the others are in Kentucky and California). Each wigwam has original handmade hickory furniture and one or two beds, with a small bathroom.
Glass Beach – Fort Bragg, CA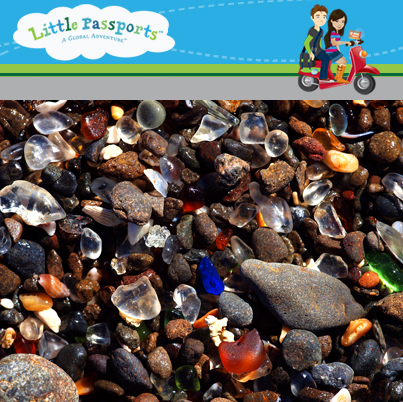 The sparkle on this stretch of Mendocino County coast came from a most unlikely source: discarded trash. Starting in the early 1900's, residents used the beach as a dump, throwing everything from cans and bottles to appliances, and even old cars, over the cliffs and into the ocean. Luckily, in 1967, the California state government put an end to the dumping because of the harm it was doing to both the ocean and coastal ecosystems. Over time, the sea has churned back the glass and debris and today the shore glitters with millions of colorful glass "pebbles" that have been tumbled smooth by the pounding waves. Kids and adults alike enjoy searching the shore to search for rarer pieces like "ruby reds", fragments of old car tail lights, or "sapphire gems," hunks of blue apothecary bottles. Make sure to take only pictures of what you find, though; the beach is now a state park, so pocketing your discoveries is not allowed. Treasure the memory instead and help preserve the beach's unique beauty for future visitors to enjoy!
SHARE THIS: