Exploring Guanajuato with Little Passports!
The pretend adventures of Sam and Sofia are fun to read about, but it's even more fun to go on real vacations!
Recently, we heard from customer Jaclyn G. (whose daughter receives the World Edition) that because of the Mexico package, her family planned an amazing international vacation: they decided that exploring Guanajuato, Mexico would be fun, just like Sam and Sofia did. We asked her if she would mind sharing her experience with us. Check it out below!
We asked her if she would mind sharing her experience with us. Check it out below!
---
1. What has been your daughter's favorite country to learn about so far? And what has been your favorite?
My daughter says her favorite so far is Ireland. We received that package around the time that her grandparents were traveling to Ireland, which made it extra special. She also absolutely loved the excavation kit that came with the Egypt package.
My favorite would probably be Mexico, because of the amazing trip that it led to. I enjoyed learning about a neighboring country, especially because it focused on a unique area that was completely new to me.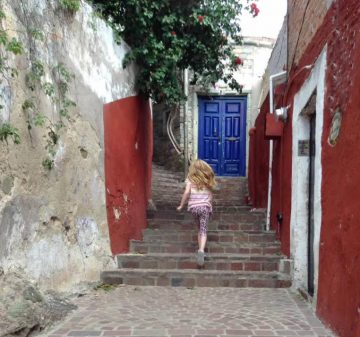 2. When your daughter got the Mexico package as part of her World Edition subscription, your family decided to take a trip just like Sam and Sofia. Can you tell us the story of how that happened?
After receiving the Mexico package around a year and a half ago we became intrigued by Guanajuato. We did some research on the area and decided we wanted to visit there for our family vacation. We have friends in Monterrey, Mexico and we decided we could make a trip out of visiting them and visiting Guanajuato! For our vacation we spent three days in Monterrey and then four days in Guanajuato. It was our first time in Mexico and we absolutely loved our time there! Our daughter was very excited to act like a fish in the tunnels of Guanajuato, just like Sam and Sophia. We spent most of our time in Guanajuato exploring the interwoven alleys and taking in the gorgeous, colorful scenery.
We are incredibly thankful to Little Passports for introducing us to the amazing town of Guanajuato, and for continuing to teach us each month! We never would have known about Guanajuato and would have missed out on an amazing, beautiful location. We are absolute fans of Little Passports!
3. What has been your most memorable trip to take as a family? Any advice for families traveling with young children?
We have two favorite family trips that we frequently talk about: Mexico in 2016 and Disneyland in 2013. Both trips were just with our family of three. We spent months researching and planning before each trip, and everything went better than we could have imagined! I don't think we could have planned better for either of those trips, which is one reason they are among our favorites!
My advice for traveling families is to take the time to learn about an area well before you arrive. Give yourself the time to find some highlights you want to experience, and then when you arrive enjoy all of the unexpected gems you discover along the way. It's nice to go in having a general idea of things you want to do in an area, especially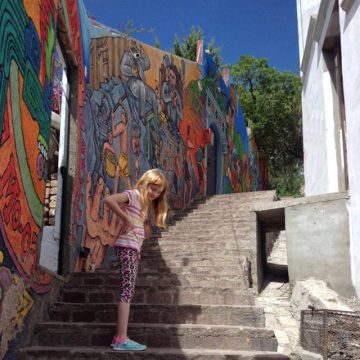 because there is rarely enough time to see everything. When you're traveling with young children, it's even more important not to pack too much into one trip or everyone ends up cranky! There are some great resources out there dedicated to family travel. Planning helps us know what to pack, learn tips and tricks from other travelers (especially families!), and to feel like we got the most out of our limited time in a new area. It also gives us time to talk about the trip as a family. We love including our daughter in our travel planning discussions.
4. Do you have any other trips planned coming up? What's next for your family adventures?
We always seem to have an idea for a trip! There are so many places throughout the world that we want to explore and share as a family. We hope to visit Europe for our next big vacation, possibly in the next three to five years. We want our daughter to be old enough to really appreciate that kind of a trip and to be able to truly remember it.
This summer we are planning to go to Maryland to spend time with the grandparents that gave us the gift of Little Passports! We try to make it back there every few years. We are looking forward to seeing lightning bugs at night and exploring Washington, D.C.
After that, we are thinking about doing a trip to see the Grand Canyon and the southwest.
Who knows, maybe Sam and Sophia will introduce use to somewhere new and set us on a new planning path! The Peru package this month has piqued our interest in Machu Picchu! 🙂
5. How did you first hear about Little Passports?
I think I first heard about Little Passports through ads on Facebook. The ads worked and I became interested in the program! Around that same time, my daughter–six years old at the time–received the gift of a monthly subscription from her grandparents. We're now starting the third year of that subscription! This has been such a fun gift for all of us. It's something that our daughter looks forward to every month. And I have shared our love of Little Passports with several friends, a few of which are now enjoying their own subscriptions.
---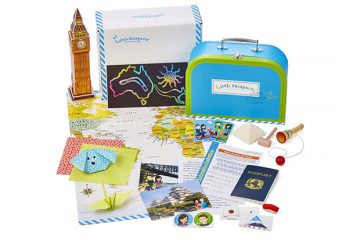 Recommended for ages 6-10
"My son looks forward to the adventure in our mailbox each month!" -Adrian, mom of 10-year-old son
Follow Sam and Sofia around the globe as they learn about world cultures and make new friends! Every package explores an exciting new country like Japan, Brazil, Ireland or Mexico and is filled with stickers, letters, activities, souvenirs and more.
SHARE THIS: