Explore Connecticut, the Constitution State
Hello,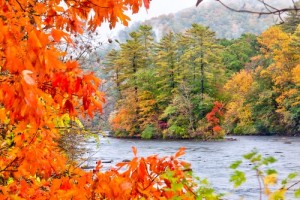 Sam and I had a lot of fun exploring Connecticut. We wanted to tell you more about the Litchfield Hills where we learned about leaf-peepers and experimented with leaves to find out what makes them change colors in the fall. Driving through the hills, we discovered sparkling lakes, red cottages, white churches and country inns with great food.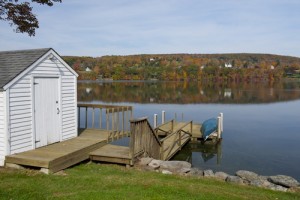 Our favorite lake was Lake Waramaug. Surrounded by lush forests, the lake is a popular place to go fishing, kayaking and camping. We rented bikes and went for a ride. We didn't have to climb any serious hills! It was a nice slow ride. Around lunchtime we found a small beach and stopped there for a picnic.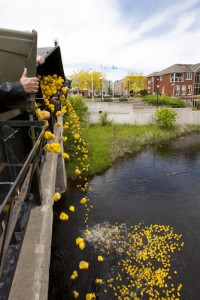 While eating our sandwiches, we noticed a few ducks swimming in the water. That's when Sam had an idea to go rubber duck racing! I didn't know what it was and he explained to me that in Connecticut, duck racing events are very popular. People buy plastic yellow ducks and release them into the river. There's no way to control your duck so it's up to chance who wins the race. At the finish line, organizers collect the ducks and announce winners. The duck races are a popular way to raise money for the community.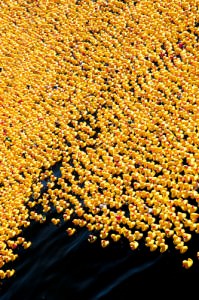 I thought it was a great idea so we hopped on our scooter and headed for the city of Milford, where the race was held. We bought two racing ducks (each duck had a number written on it for us to know if we won at the end). When the race began, we couldn't see our ducks because there were thousands of them in the water! We didn't end up winning the race, but it was a lot of fun just to participate.
Connecticut was a great adventure. We hope you enjoyed traveling with us. Don't forget to check out our Favorites, Photos and Activity below to find out other special places we visited in the Constitution State.
Your friends,
Sofia and Sam
---
Sam's Favorites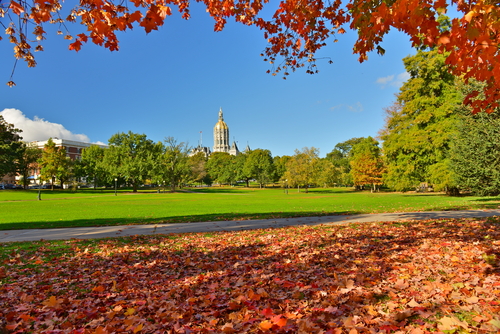 Park: Bushnell Park
Bushnell Park in downtown Hartford was my favorite park in Connecticut. It has great views of the Capitol building. We had lunch on the green lawn and then watched a jazz concert.
Lighthouse: Penfield Reef Lighthouse
The Penfield Reef Lighthouse stands on a mile-long stretch of rocks near the coast of Fairfield. Even with the lighthouse guiding the way, boats sailing Long Island Sound consider the reef dangerous.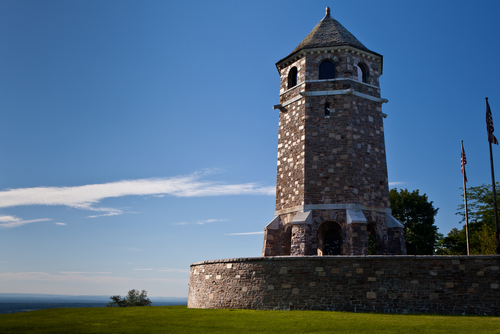 Tower: War Memorial Tower
The War Memorial Tower stands on the top of Fox Hill in Rockville. Completed in 1939, the tower is dedicated to all war veterans. I enjoyed exploring the tower and looking over the Connecticut River Valley from the top.
Sofia's Favorites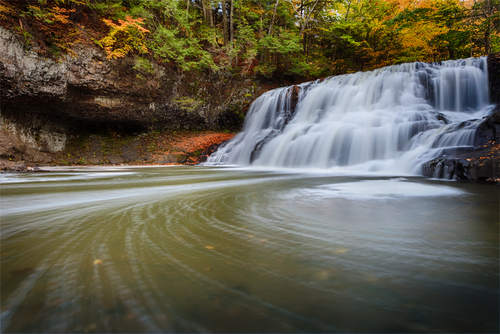 Park: Wadsworth Falls State Park
We had fun hiking through Wadsworth Falls State Park. It's a lush park with wide trails and two waterfalls. We took photos at the Big Waterfall and then had a picnic next to the Little Waterfall.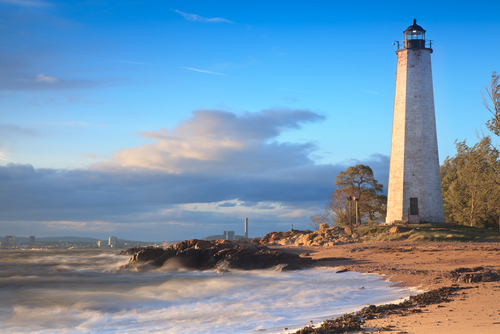 Lighthouse: Five Mile Point Lighthouse
The Five Mile Point Lighthouse was named for the distance from downtown Hartford to the coastline where the lighthouse was built. It is now part of Lighthouse Point Park where we went for a swim.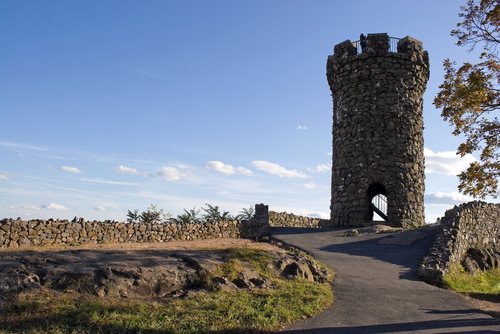 Tower: Castle Craig
Castle Craig is a stone observation tower built by world traveler Walter Hubbard in the city of Meriden. In 1900, he presented the tower to the city where it still stands today. The tower reminded me of ancient forts in France and Scotland.
---
Make DIY Leaf Skeletons
Connecticut is one of the best places in the country to see colorful foliage. There are many ways to create beautiful crafts from leaves. Follow the instructions below to learn how to make leaf "skeletons" and display them in a frame.
What You Will Need
Dozens of thick, shiny leaves, such as ivy, maple, hydrangea or magnolia
Old saucepan
¾ cup washing soda (used in house cleaning)
4 cups water
Spatula or tongs
Paper towels
Paintbrush
Additional, optional items: glue, sheet of construction paper (any color), picture frame
Instructions
Put the leaves in the saucepan and cover them with water. Add the washing soda.
Bring the pot to a boil, turn the heat down and let the leaves simmer for an hour. Keep adding a little water from time to time so your saucepan doesn't dry out.
When the leaf pulp (cells) has separated from the veins, remove the leaves carefully with a spatula and lay them on paper towels. (Depending on the type of leaves you are using, it may take up to two hours for the pulp to separate from the leaf veins.)
Using the paintbrush, carefully sweep the rest of the pulp away from each leaf. Turn over each leaf and repeat the process for the other side. Leave them to dry. (Don't worry if you break some leaves. With a dozen leaves in your pan, you have enough to practice on!)
Your leaf skeletons are ready! Handle them with care. Using glue, mount them on the construction paper and then frame them.
SHARE THIS: