Explore Maine, the Pine Tree State
Hi friend,
Along the coast of Maine, there are so many great beaches, small fishing villages and beautiful parks. Our trip was packed with adventures!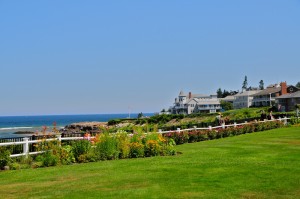 We were excited to visit the town of Ogunquit. In the 1800s, artists discovered this town and settled here to paint the white sand beaches and rocky cliffs that surround the town. Ogunquit Beach is one of the town's main attractions. It is very popular with summer vacationers. We loved playing in the sand and collecting seashells. Then Sofia suggested we go for a walk along the coast. As we were chasing seagulls, we noticed a strong smell of seafood in the air and saw a man on a small fishing boat pull up to shore. That was how we met Tuck, the lobsterman.
We were curious what it was like being a lobsterman and Tuck was happy to share more with us. He said he keeps a strict routine every day, waking up before dawn, packing his lunch and boarding his boat at 4:30 a.m. Out in the ocean, he puts bait in the traps and drops them into water hoping for a good catch. "I was on my feet for some 10 hours today. You've got to be in good physical shape to be a lobsterman," he said.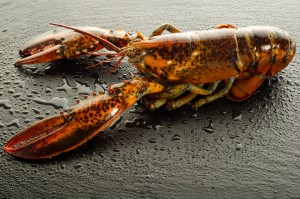 We told Tuck that we learned a lot about lobsters during our trip and even made a lobster roll. (Did you try out our recipe in the journal?) Tuck said that his kids love lobster rolls too. He had to go unload his catch and wash his boat so we said goodbye to him and continued with our trip.
Our next stop was Acadia National Park on Mount Desert Island. The park offers so many fun activities that we could stay here for the entire week! Hiking mountain trails, cycling, bird-watching and boating are just some of the activities offered here.
Cadillac Mountain is one of the major attractions in Acadia. At more than 1,500 feet, Cadillac Mountain is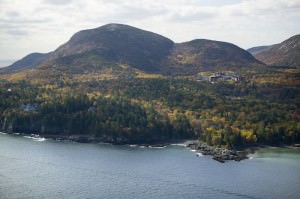 the tallest mountain in the park. Luckily, we didn't have to hike all the way up. You can drive to the top of the mountain to enjoy the views of the island! A park ranger told us that during certain times of the year, this mountain is the first place in the USA to see the sun rise. She then recommended that we explore the scenic carriage roads in the park.
The carriage roads were a fun way to end our trip to Maine. These roads have been built in the park in the 1900s for hikers, bikers and horse-drawn carriages. You can still catch a ride in a horse-drawn carriage and that was what we did!
See what else we did in Maine by scrolling down to the Favorites, Photos and Activity sections.
Your friends,
Sam and Sofia
---
Sam's Favorites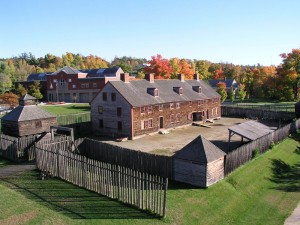 Town: Augusta
It was fun to visit Maine's capital city, Augusta. Our favorite attraction in the city was Old Fort Western. Built in 1754, it is one of the oldest wooden forts in the USA.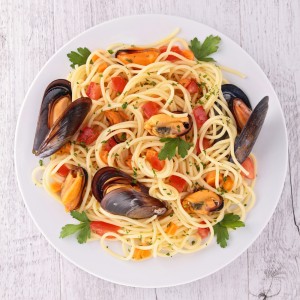 Food: Mussels
Mussels are a popular seafood item in Maine restaurants. Mussels can be baked, fried, smoked or steamed and are often served in chowders. I enjoyed spaghetti with mussels a lot!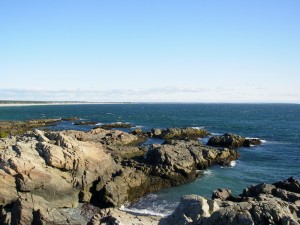 Scenic View: Marginal Way
The Marginal Way is a scenic cliff-walk above the ocean in the town of Ogunquit. I enjoyed the views of wind-twisted trees and wild roses growing along the walk.
Sofia's Favorites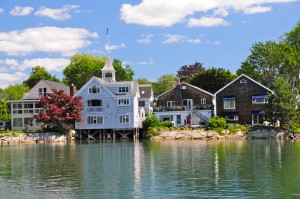 Town: Kennebunkport
Kennebunkport was settled in the 1600s. The town used to be a major shipbuilding center, but today it is a resort destination. We went on a whale-watching excursion in Kennebunkport.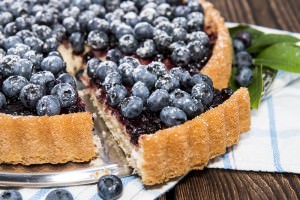 Food: Blueberry Tart
We spent a day at the Wild Blueberry Festival in Machias. I tried different blueberry treats, but a blueberry tart was my favorite. Wild blueberries grow best in areas like Maine's rocky shores and inland mountains.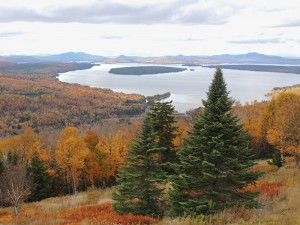 Scenic View: Height of Lands
There were so many pretty places in Maine, but the outlook near Rumford called "Height of Lands" was my favorite. Looking through binoculars, I could see beautiful mountains, forests and lakes.
---
DIY Lighthouse Nightlight
More than 60 lighthouses have been built along the coast of Maine. They used to be "guardians" of the seacoast helping ships get safely to shore. Today, some lighthouses in Maine remain part of the U.S. Coast Guard, while others have become popular tourist attractions. Following the steps below, build your own lighthouse and use it as a nightlight.
Ingredients
Red marker
12-ounce paper cup
Tea light, battery-operated
9-ounce clear plastic cup
Scissors
Clear tape
Crayons, blue, yellow and brown
Tacky glue
Paper plate
Instructions
Use a red marker to draw three stripes, each about an inch wide, around the paper cup. Use the picture of West Quoddy Head Lighthouse as a model.
Turn the paper cup upside down and tape the tea light to the bottom of the cup.
Cut an inch off from the top of the plastic cup.
Cover the tea light with the plastic cup. (The top cup should fit snugly over the bottom cup.) This is your lighthouse!
Using the crayons, decorate the paper plate with waves, sand and rocks. This is an island for your lighthouse.
Glue the lighthouse to your island and let your project dry. To turn it on, lift the top cup and turn on the tea light.
SHARE THIS: