Welcome to Michigan, the Great Lakes State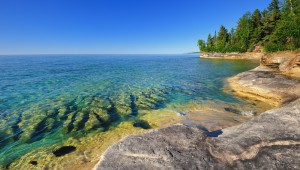 Hi,
We loved exploring Michigan and can't wait to tell you more about our adventures around the Great Lakes. Do you remember that the Great Lakes form the largest group of freshwater lakes in the world? Michigan touches four of the five Great Lakes – Lake Erie, Lake Huron, Lake Michigan and Lake Superior.
While visiting Lake Michigan, we went to see the wreck of the Francisco Morazan freighter. A park ranger told us a story about how the ship sank.
The freighter ran ashore in the winter of 1960. The weather was wild that day. Blinded by fog and snow, the crew lost control of the ship. Luckily, they got stranded close to shore and were rescued quickly. The ship was never removed from the shoreline and is now home to seagulls and cormorants.
"What a great story," said Sofia, admiring the big freighter. "I'm glad everyone got out safe! But wait, where is that delicious smell coming from?"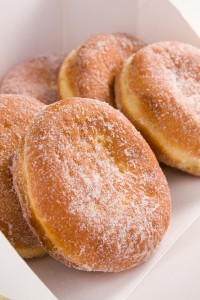 Sitting on the bench behind us was an old man with a bag of goodies that looked like donuts but without a hole in the middle. Sofia couldn't stop staring at the treats in the box. The man looked at us and asked, "Would you like some paczkis?"
That's how we met Aaron. He told us that his pastries were Polish doughnuts, called paczkis. They are very popular in Polish communities in Michigan, especially on Paczki Day (known as Fat Tuesday and Mardi Gras in the USA).
Aaron is 60 years old. He told us that he had emigrated with his family from Poland to Michigan, which today has one of the largest Polish-American communities in the USA.
Aaron is a fisherman and offered to take us on a fishing adventure. We jumped on the opportunity, as fishing is one of the most popular pastimes in Michigan.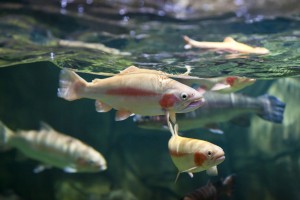 Aaron took us to Sleeping Bear Dunes National Lakeshore. (Remember your trip around the lakes from the journal where a sand dune looked like a sleeping bear?) Aside from Lake Michigan, there are 21 other lakes in the Sleeping Bear Dunes. Anglers come here to fish for pike, bass, trout and salmon. As the sun was setting down, we caught a few fish our of own!. It was such a neat way to end our adventure.
Scroll down to see other highlights from our trip!
Your friends,
Sam and Sofia
---
Sam's Favorites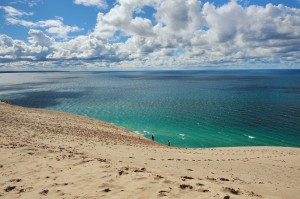 National Lakeshore: Sleeping Bear National Dunes
Located along the shores of Lake Michigan, Sleeping Bear Dunes is a beautiful park where you can camp, hike, swim and even go horseback riding.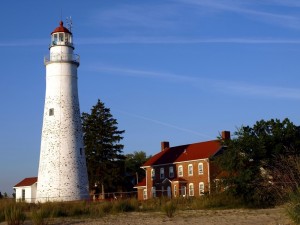 Lighthouse: Fort Gratio
Fort Gratiot Lighthouse is the oldest lighthouse in Michigan. First lit in 1825, it keeps watch over ships in Lake Huron. The lighthouse is open for tours when the weather is good.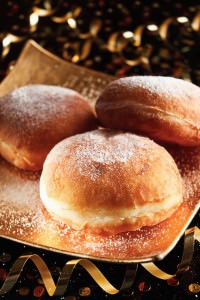 Celebration: Paczki Day
Paczki Day is another name for Fat Tuesday and Mardi Gras holidays in the Midwest. Paczki are Polish deep-fried doughnuts served all over Michigan on this day. Polish immigrants who settled in the Midwest centuries ago made the recipe very popular here.
Sofia's Favorites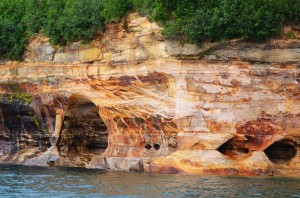 National Lakeshore: Pictured Rocks
Pictured Rocks Lakeshore gets its name from a variety of colorful minerals found in the rocks. It was amazing to explore these beautiful cliffs and watch the sun go down.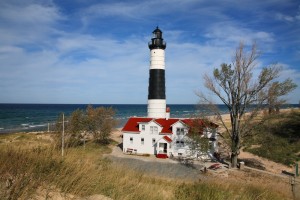 Lighthouse: Big Sable Point
Over 100 feet tall, Big Sable Point Lighthouse in Ludington is one of the tallest lighthouses on Lake Michigan. We climbed to the top of the lighthouse, which felt like going up a 10-story building.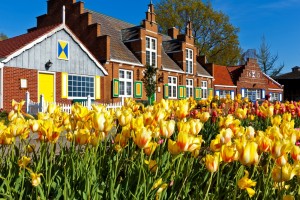 Celebration: Tulip Time Festival
Visiting Holland, MI for Tulip Time Festival was unforgettable! I couldn't believe the sea of colorful tulips all around me. We were so lucky to experience the Dutch culture without leaving the USA. Did you make a tulip following our instructions in the journal?
---
Recipe: Chocolate Fudge
Mackinac Island is famous for not allowing cars on its shore. Exploring the historic island on foot or in a horse carriage, you can't get past the smell of fudge on the streets. Since the 1800s, the island's chefs have made fudge into a local attraction. There are so many fudge shops that you would have a hard time choosing between the dozens of flavors offered. Learn how to cook chocolate fudge with this recipe.
Ingredients
¾ cup milk
2 oz. dark chocolate squares (60 per cent cocoa or more)
2 cups sugar
1 ½ tbsp light corn syrup
¼ tsp salt
½ tbsp butter
¾ tsp vanilla
Instructions
In a medium-sized heavy saucepan, combine the milk and chocolate. Cook on low heat until the chocolate melts.
Stir in the sugar, corn syrup and salt.
Continue stirring until the mixture reaches about 230 degrees Fahrenheit on a candy thermometer. Remove from the heat.
Add the butter and vanilla to the mixture and allow them to combine naturally. Don?t stir them in.
Wait until the mixture cools down to 110 degrees Fahrenheit.
Beat with a wooden spoon for about 10 minutes or in an electric mixer until the mixture is smooth and thick.
Spread your fudge in a buttered pan and put in the freezer for 15 minutes.
Cut the fudge into squares and enjoy!
SHARE THIS: