Meet the Little Passports Co-Founders!
In April 2009, Stella Ma and Amy Norman started a business to help kids learn about the world around them with an enriching, interactive and fun monthly subscription service. Next month marks the company's 5th birthday, and we're celebrating the milestone all month long!
To kick it off, we're taking a moment to talk to the Little Passports founders about their friendship, their business and what's next!

Q: How long have you known each other?
Amy: We met working at eBay back in 2004 and quickly became best friends.
Stella: So we're actually celebrating our 10-year friendship anniversary!
Q: How did you come up with the idea for Little Passports?
Stella: We realized that we both had an entrepreneurial spirit, and as we started having kids, we realized a shared passion for raising a generation of global citizens.
Amy: Yes, I grew up moving every 3 years between England and the US, and Stella grew up in a Chinese-American household in the melting pot of Oakland, CA. Those experiences were important to us, and we wanted to share that curiosity about world cultures with our kids and the larger community. Having kids also inspired us to make our work matter and to try to have a positive impact on the world.
Stella: From that, we created Little Passports and have had such a fun and rewarding 5 years.
Q: What were those early days like, when Little Passports was just a big idea?
Stella: It was a lot of fun developing the product and figuring out how the experience would work for children – and a lot of hard work! We loved having the opportunity to tap our creative juices, but we also had to be disciplined with our time in order to move our idea forward.
Q: How did you make the idea a reality?
Amy: We knew early on that we needed to focus on Little Passports 100%, and that meant going without a salary for quite some time. It was scary and required a complete belief in ourselves and in the product.
Stella: We put together a detailed project plan and held ourselves accountable all along the way. We intuitively felt that Little Passports was going to succeed and that people would want to buy it. But there were no guarantees.
Q: What was your family's reaction to starting your own business? Did everyone pitch in?
Stella: At the beginning, it was truly a family effort. My mom and sister helped fulfill packages from my dining room table, and then we would load the packages in the car and take the trip to the local post office. We ran a pretty efficient assembly line set-up, and my sister and I now share an inside joke about how often I would allow breaks! My husband helped us code the first version of our site and still advises us today on technical issues.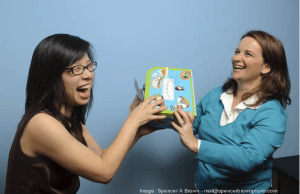 Q: Has your friendship changed as you've built a business together?
Amy: We were best friends when we started Little Passports. Now, we're more like a married couple! We have spent 5 years making decisions, sharing finances, sharing risks and successes…it's a much deeper friendship now.
Q: What has been the most rewarding part of building Little Passports?
Stella: The most rewarding part has been building and engaging with the Little Passports community, which to me includes our customers, our families, as well as the Little Passports team that I work with every day. I am inspired by the energy and passion that they bring to the job and am grateful for the opportunity to work with them.
Q: What kind of company culture have you created?
Amy: We are building a culture based on trust, transparency and flexibility. Our employees work from home 2 days a week and we don't have a face-time culture. It's as important to us that we are creating great jobs as it is that we're creating great products. Plus, we have a lot of fun!
Q: Tell us about the team that develops the monthly packages. How do you come up with ideas?
Stella: Our product team works incredibly hard to create experiences that are both engaging and educational for our travelers. They conduct their research with an eye towards what kids would find interesting and inspirational. After selecting the content themes, they work with our designers and programmers to create visually engaging materials and activities. I'm constantly impressed how each monthly package feels unique and special.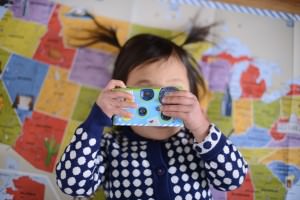 Q: You both have kids. Do they love Little Passports, too, and do they provide ideas and inspiration for the product?
Amy: Absolutely! My 5 year old receives the World Edition and my 8 year old receives the USA Edition. They have both stated that they want to work at Little Passports "when they grow up." It doesn't get better than that!
Stella: Yes, it's very rewarding to see that we've created a product that our own children enjoy. My 7 year old loves to test product concepts before they go to development, and he has already asked me when we're going to expand worldwide!
Q: You've both worked incredibly hard to get here. How does it feel to be reaching the 5-year milestone?
Stella: It's hard to believe that it's been 5 years already — it's all gone by so quickly. It's nice to be able to take a moment and reflect on how far we've come from just an idea to the amazing company and community we've built.
Q: What's next for Little Passports?
Amy: 2014 is going to be a really exciting year for us, and we're experiencing incredible growth. We're expanding our team to keep up with demand and hope to have some fun announcements over the coming months. Stay tuned and make sure to sign up for our newsletter!
Do you have a question for Stella and Amy? Post your comments here.
Photo Credit: Amy & Stella Pics – Spencer Brown
Photo Credit: Child with Camera – Betsey Darley Photography
SHARE THIS: