Stella's Best Ways to Keep Kids Learning Over Summer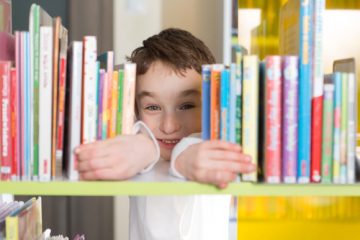 I love the arrival of summer because it's an opportunity for our family to enjoy time together at a slower pace.  It's nice not being tied to the normal school schedule with the accompanying homework routines and responsibilities.
That being said, I do worry about the oft-mentioned summer brain drain.  Below are some ways I try to keep the kids entertained and learning throughout the summer – without it feeling like they're having to spend time learning!
Join the Summer Reading Programs at Your Local Library
Since preschool, my kids have participated in the summer reading program at our neighborhood library.  The program lasts throughout the summer and the kids keep track of how much time they've read with stickers and a logbook.  There's a mid-summer reading milestone where kids are rewarded with coupons to the local ice cream shop or skating rink (more fun summer outings!).  At the end of the summer, kids get to pick a book as their grand prize.  The program is fun, encourages reading and teaches kids how to be responsible for tracking their reading.  If your library doesn't offer a summer reading program, it's easy to create your own program.  You just need a logbook and some fun prizes!
Attend Local Summer Festivals
Summer is the perfect time to attend outdoor festivals like local street fairs and the county fair.  At one of the local street fairs we attended last summer, my kids learned about recycling and composting from the booth sponsored by our waste management company.  At the county fair, we learned about our local water supply and water conservation.  Living in an urban area, we aren't exposed very much to farming, so the kids also had the opportunity to learn more about agriculture.  
Design and Cook International Meals
In keeping with my company's mission of inspiring kids to learn about the world, one fun way to do that over the summer is to plan some international-themed meals together as a family.  You can do everything together as a family from researching and designing the menu to shopping for the ingredients, creating decorations and cooking the meal.  I recently came across an article that talked about specific knife skills kids need to know.  This made me realize that it's helpful to set aside time specifically to cook with the kids when I'm not rushed so we can take the time to learn specific skills.
Design and Participate in Local Scavenger/Treasure Hunts
Someone from my team has fond memories of these great scavenger hunts her babysitter developed for her that included over 30 clues. The clues would just be on scraps of paper and feature riddles or drawings.  The hunt would eventually lead to a treasure of fun dollar store items.  This is an activity that you could also get the whole family to participate in where older kids could help design the clues and the parents could be the ones to go on the hunt.  My kids have designed treasure hunts for me in our house that have been incredibly fun to participate in.  It's rewarding to see how much joy they get from designing the clues and watching their mom fumble around!
Related: Backyard Nature Scavenger Hunt Printable
I also wanted to share one other tip that I've recently found successful for those times when you need to do some more direct learning like practicing a list of sight words.  I always carry around materials and mini "lessons"  (like pictures of sight word lists on my phone) so I can do them whenever I find I have 5 to 10 minutes of spare time.  It could be spare time in the car, while we're waiting for our meal at a restaurant or while I'm waiting for one of the children to finish a class or activity.  It's fun filler time and you don't have to worry about motivating your child to come and sit down at a table.
I hope your family enjoys a summer full of fun, adventure, and learning.  Happy Summer!
-Stella
SHARE THIS: