Welcome to Ohio, the Buckeye State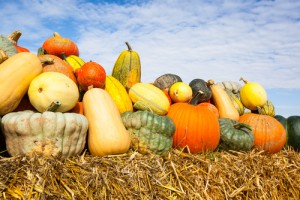 Hi friend,
Thanks so much for coming along on our trip to Ohio. We hope you enjoyed exploring Cincinnati with us, visiting the pumpkin festival in Circleville and learning about the 7 US presidents who were born in Ohio. We have a lot more to share with you!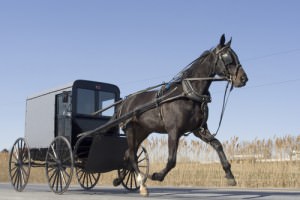 One of our favorite things to do in Ohio was riding in a horse-pulled buggy in Amish country. We started our tour in Berlin, a pretty town in Holmes County. When we arrived, we met a cheesemaker named Martin. He was delivering some cheese to a local shop when he saw us wandering the streets. We introduced ourselves and told him it was our first time in Berlin. Martin gave a huge smile and offered to show us around.
"Isn't Berlin the capital of Germany?" asked Sam.
"That's right! Berlin, Ohio has German origins," said Martin. "Most of the early settlers came here from Germany and Switzerland. The village was founded in 1816, so there's a lot of history here."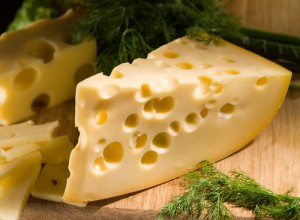 Martin said his village is very popular with tourists these days. We could see why. Our buggy passed by antique shops, flea markets, furniture stores, bakeries and cheese factories. There was so much to see. One of our favorite stops, though, was Martin's dairy farm. Baby Swiss cheese is Martin's specialty. Baby Swiss is a type of hard cheese that has small holes, also called eyes. In Martin's store, there was a viewing window were we watched cheesemakers at work. It was really interesting watching them slice and package the cheese.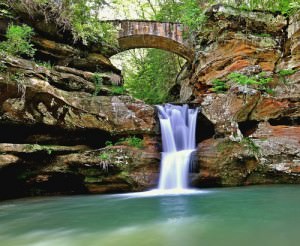 After Berlin, we went south to Hocking Hills State Park in the town of Logan. I was excited to see waterfalls, and Sam wanted to explore some caves. We decided to hike to one of the most popular parts of the park, called Old Man's Cave. The cave is located in a valley between two hills and is named after Richard Rowe, who settled here at the end of the 18th century. There are beautiful streams and waterfalls on the way to the cave. We also saw a white-tailed deer and a wild turkey. It was a beautiful hike!
The Buckeye State has been such a fun adventure. Look below to see what else we discovered in Ohio.
Thanks for traveling with us,
Sofia and Sam
---
Sam's Favorites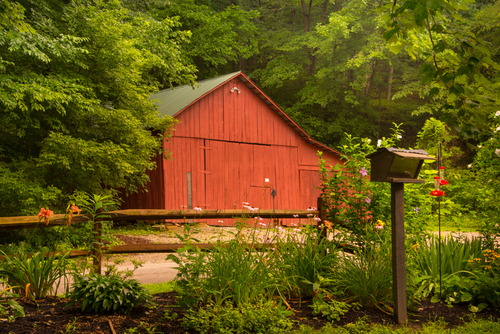 Park: Clear Creek Metro Park
Clear Creek Metro Park is located in Rockbridge. It is filled with thick forests, meadows and cliffs. The park is named after Clear Creek, which runs through the park and is a popular place for fishing.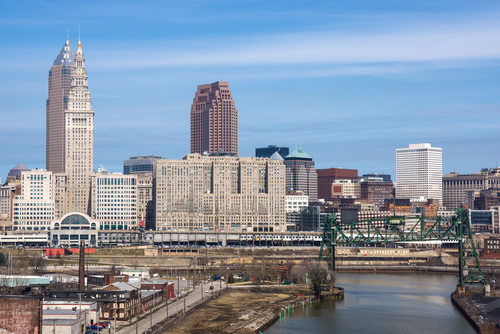 Bridge: Eagle Avenue Bridge
The Eagle Avenue Bridge crosses the Cuyahoga River. Years ago, the middle section of the bridge would raise and lower to allow boats to pass. The bridge remains a historic attraction.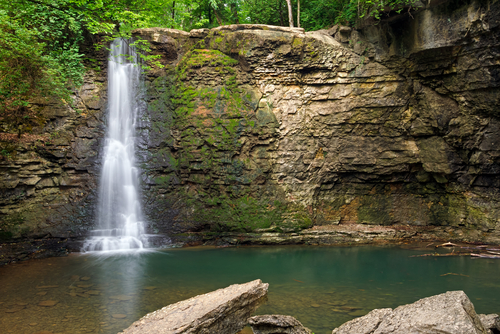 Waterfall: Hayden Falls
Hayden Falls is a beautiful waterfall that drops off a 25-foot cliff in Columbus, Ohio. The falls empty into Hayden Stream, which then runs into the Scioto River.
Sofia's Favorites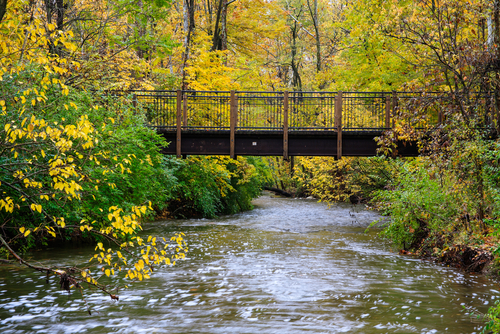 Park: Sharon Woods
Sharon Woods is a popular park in Cincinnati. It's filled with lakes, waterfalls, hiking trails and picnic areas. We rented a boat and paddled around one of the park's sparkling lakes.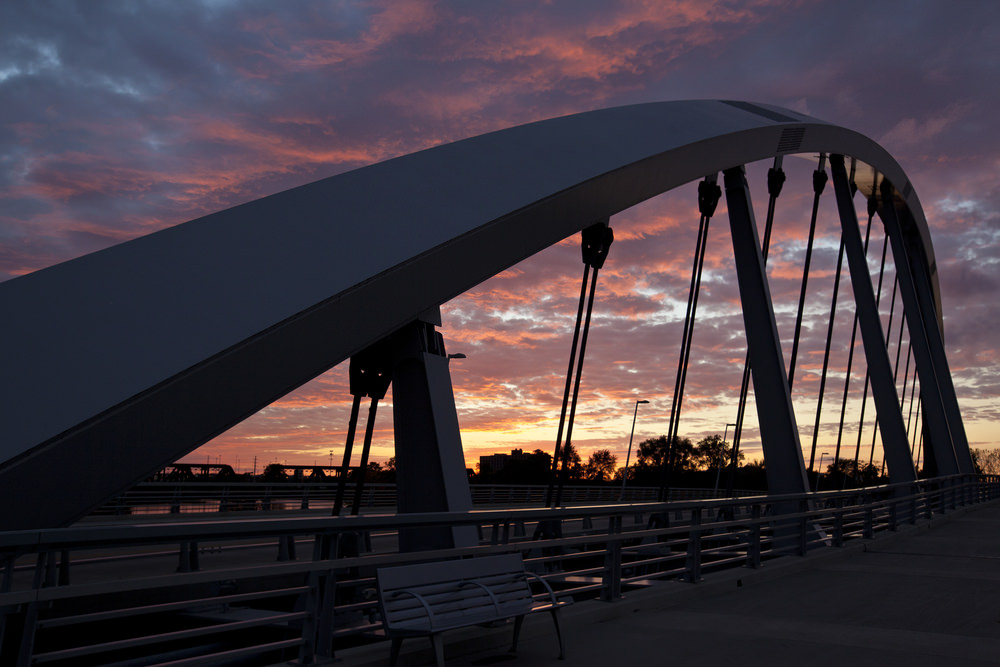 Bridge: Main Avenue Bridge
There are many historic bridges in Cleveland. At 8,000 feet long, the Main Avenue Bridge was my favorite. It is painted a pretty blue color and is one of the longest bridges in Ohio.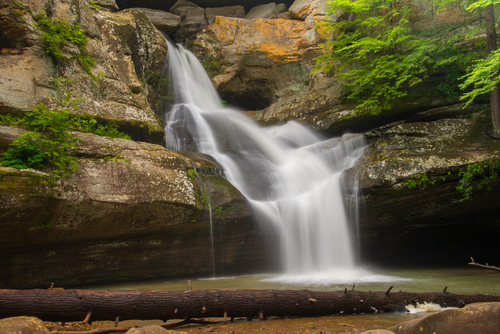 Waterfall: Cedar Falls
Cedar Falls is located in Hocking Hills State Park. In the 1800s, the cascading water powered a flour mill. A secluded trail lined by thick hemlocks leads to the falls.
Pumpkin Pie Donut Recipe
The Circleville Pumpkin Show is famous for big pumpkin displays and all different types of pumpkin-flavored food. On their USA adventures, Sam and Sofia visited Ohio and loved pumpkin pie donuts – and they are a fun and easy dessert to bake. Follow the recipe below to bring a taste of Circleville to your home. Enjoy!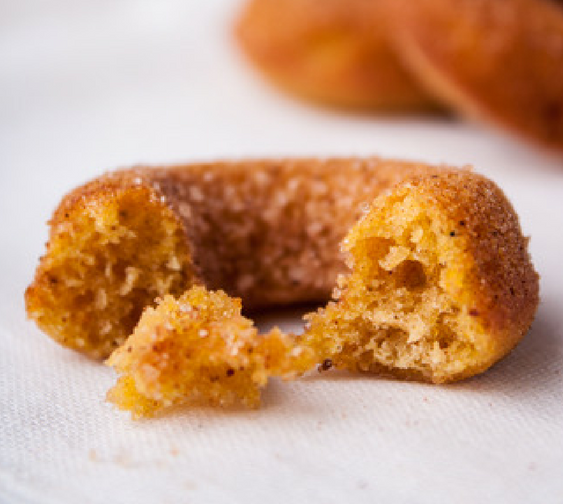 Ingredients
2 cups all-purpose flour
½ cup brown sugar
1½ tsp baking powder
1½ tsp pumpkin pie spice
½ tsp salt
¼ tsp baking soda
1 cup pumpkin puree
¼ cup milk
2 eggs
¼ cup butter, softened
Donut pan
1/4 cup brown sugar (for sugar topping)
1 tsp pumpkin pie spice (for sugar topping)
1/4 cup butter, melted (for sugar topping)
Instructions
Preheat the oven to 325 degrees Fahrenheit.
In a bowl, combine the dry ingredients for the donuts (flour, sugar, baking powder, pumpkin pie spice, salt and baking soda). Stir well.
Add the pumpkin puree, eggs, milk and butter to the mixture. Using an electric mixer, beat the mixture on a low speed until it forms a smooth batter.
Spoon the batter into a greased donut pan.
Bake for 8 to 10 minutes, or until inserted toothpick comes out clean.
Let donuts cool on a drying rack. While they cool, mix the remaining brown sugar and pumpkin pie spice in a small bowl. Set aside.
Lightly brush the donuts with the melted butter.
While butter is still moist, sprinkle the sugar and pumpkin pie mixture over the top so that it sticks to the donut.
Let the donuts cool completely before serving.
Enjoy!
SHARE THIS: