Welcome to Oklahoma, the Sooner State
Hi,
In Oklahoma, we loved learning about cowboy culture and how cowboys helped settle the Sooner State. It was so nice to meet Casey and visit his ranch. When Casey heard that we like horses a lot, he told us we should visit the Express Clydesdales Ranch in Yukon. It is famous for breeding Clydesdale horses, which are often called "gentle giants" for their calm character and large size. We wanted to see these horses so we went to Yukon as our next stop.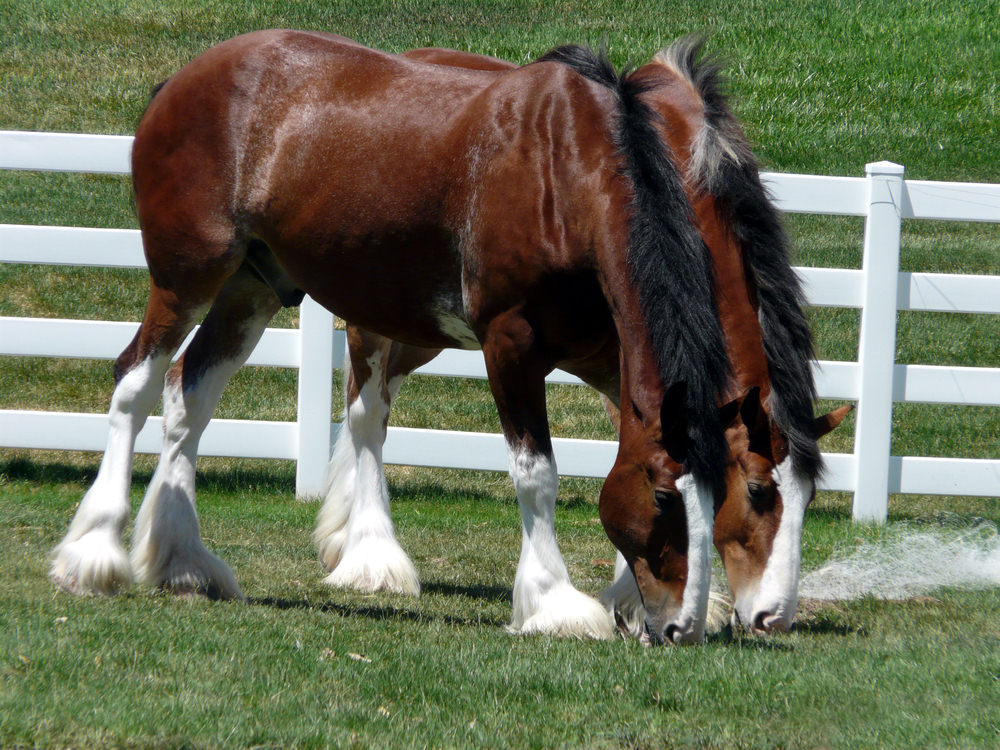 At the ranch, we saw a few Clydesdales in their stables and even got to scratch their ears! A ranger told us that Clydesdale horses were named after a region in Scotland, called Clydesdale, where the horses were originally bred. Back then, Clydesdales were used as large farm horses. At six feet tall, they can weigh more than 2,000 pounds. Today, Clydesdale horses perform at parades and festivals all over the USA.
"Its hooves are as large as dinner plates," exclaimed Sofia when one horse was led out of the stables by the ranger. Then she pointed out the hairy white "socks" around its feet.
After a great time with the horses, we moved on to the town of Rush Springs for another fun stop. This town calls itself "the watermelon capital of the USA" because of its large watermelon crops.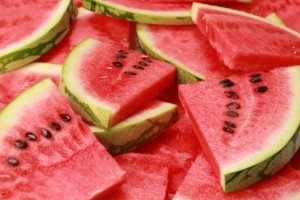 Watermelon was named the state vegetable in 2007. Sofia and I were surprised to learn this since we thought watermelon was a fruit! It turns out that a watermelon can be both a fruit and a vegetable. The state government decided to designate watermelon as a vegetable because it comes from the same family as the cucumber.
People in Rush Springs have been celebrating their watermelons since 1948 with an annual watermelon festival. Sofia and I did not want to miss this event. We ate lots of watermelon at the festival and played many watermelon-inspired games.
Continue flipping through our Favorites, Photos and Activity sections for more about our trip.
Your friends,
Sam and Sofia
---
Sam's Favorites
Landmark: Golden Driller
Towering over 75 feet, the Golden Driller statue is very impressive! Located in Tulsa, the Golden Driller was built to honor the people working in the Oklahoma oil industry.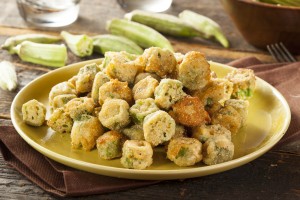 Food: Fried Okra
Fried okra is part of Oklahoma's state meal. Before coming to Oklahoma, I had never tried okra. It is a tall vegetable that grows best in warm climates during the summer.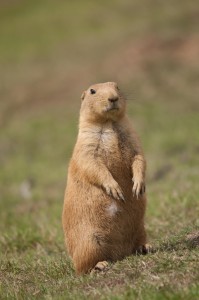 Animal: Prairie Dog
Prairie dogs are rodents living in the grassy parts of Oklahoma. They are called dogs because they make a sound similar to a dog's bark to warn other prairie dogs that a predator is nearby.
Sofia's Favorites

Landmark: State Capitol Building
The Oklahoma State Capitol was completed in 1917. Located on more than 100 acres of land, the Capitol stands in the middle of an active oil field. It is the only US Capitol surrounded by oil wells.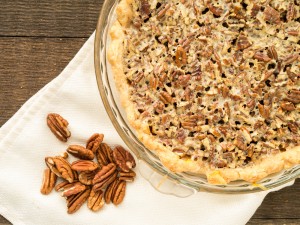 Food: Pecan Pie
Pecan pie is one of my favorite desserts. I tried a few different pecan pie varieties in the town of Okmulgee. In 1987, Okmulgee set the world record for the largest pecan pie, which measured 12 feet across.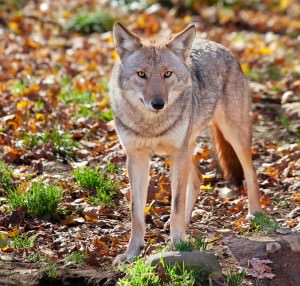 Animal: Coyote
Coyotes communicate with each other through many different types of barks and high-pitched howls. We heard them howling in Chickasaw National Recreation Area!
---
Chicken Fried Steak Recipe
Chicken fried steak is one of the main dishes in Oklahoma's state meal. The state meal consists of 12 dishes, including black-eyed-peas, cornbread, corn on the cob, okra, strawberries, sausage and gravy, barbecued pork, squash, biscuits, grits, pecan pie and chicken fried steak.
Chicken fried steak is served in diners and restaurants all along the historic Route 66. Despite the name, there's no chicken in this dish! Chicken fried steak is a beefsteak, which is cooked just like fried chicken! Follow the instructions below to enjoy this Oklahoma favorite.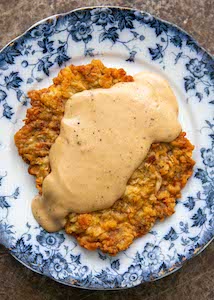 Ingredients
2 lb top-round steak, trimmed of excess fat
2 cups flour
2 tsp seasoning salt
1 tsp pepper
½ tsp cayenne pepper (optional)
2 eggs
½ cup whole milk
¼ cup vegetable oil
Instructions
Cut the steak into four pieces.
With a rolling pin, roll out each steak piece to ¼-inch thick.
In a bowl, whisk together the flour, salt, pepper and cayenne pepper.
In another bowl, mix the eggs and milk.
Dip each steak piece into the egg mixture making sure each piece is fully coated.
Dip each piece into the flour mixture.
Heat the frying pan over medium-high heat. Warm the vegetable oil in the pan.
Fry the steaks for three minutes on each side.
Set your chicken fried steaks aside.
---
SHARE THIS: