Explore South Dakota, the Mount Rushmore State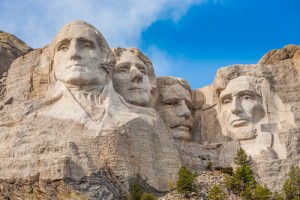 Hi friend,
There are so many fun things to do in South Dakota. Mount Rushmore was amazing. It took 14 years to carve the face sculptures. The presidents' faces look so real. The mammoth fossils in Hot Springs and begging burros in Custer State Park were also highlights of our trip, but we still have more to share!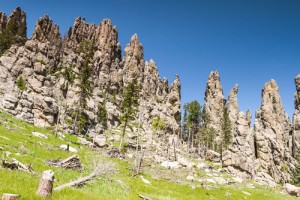 After we got through a traffic jam caused by begging burros, we set up camp along a flowing stream in Custer State Park. There was a family camping next us who had come to see the Annual Buffalo Roundup. We made friends with the two kids, Benny and Kristen, who told us all about the big buffalo event.
"Every year cowboys and cowgirls round up buffalo into corrals to identify them and give them vaccinations," said Benny. "Then they are released back into the park."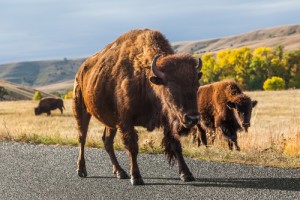 "You should come watch with us," added Kristen. We were so excited, we couldn't wait until morning.
After a pancake breakfast, we rushed to the viewing areas. It was an amazing sight! Hundreds of buffalo were herded down hills into corrals. The ground shook and dust swirled up everywhere. It was amazing to see these strong, majestic animals up close. To remember the roundup, we bought a few souvenirs at the art stands nearby.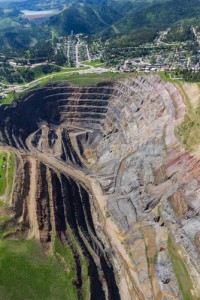 After lunch, our new friends invited us to Lead, a small town famous for one of the largest and deepest gold mines in the Western Hemisphere. Lead was founded in 1876 after gold was discovered in the Black Hills. The Homestake Gold Mine was the largest mine in the area. Over the years, more than 40 million ounces of gold were discovered in its caves. The mine closed in 2002, but you can still tour its surface and imagine what it was like to be a miner back in the old days.
South Dakota is an amazing state. Don't miss the other highlights of our trip below.
Thanks for traveling with us,
Sam and Sofia
---
Sam's Favorites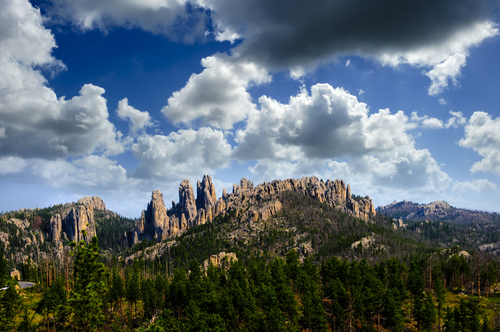 Park: Custer State Park
Custer State Park is located in the Black Hills. While visiting the park, we saw the Annual Buffalo Roundup and went hiking and mountain biking. There are so many backcountry roads there to explore!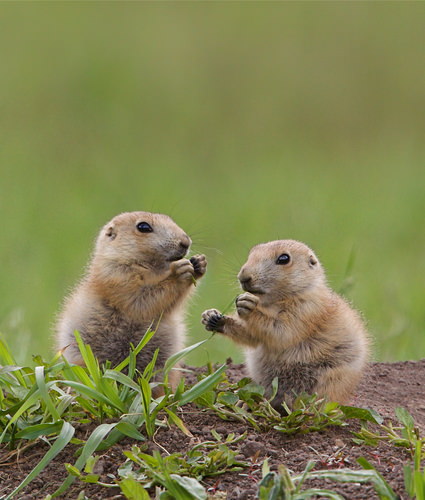 Animal: Black-Tailed Prairie Dog
Black-tailed prairie dogs are closely related to squirrels and can be found in the western areas of South Dakota. They are known for making alarm calls that sound like the bark of a dog.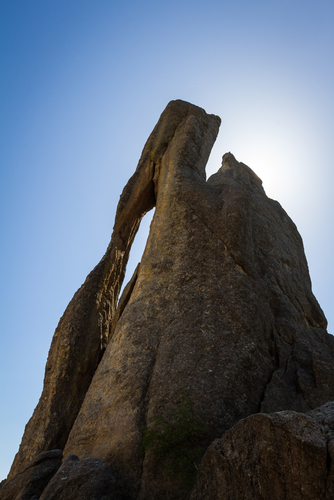 Rock Formation: Needle's Eye
Needle's Eye is a 40-foot natural rock formation in South Dakota. It was formed by centuries of erosion caused by wind and rain. The "eye" of the rock is about 3 feet wide, and you can climb inside it!
Sofia's Favorites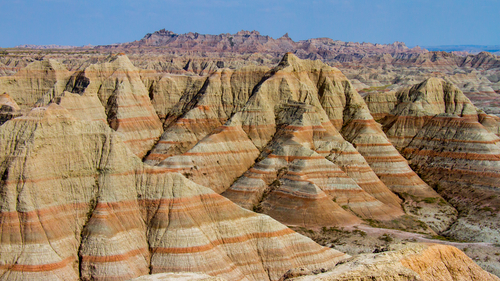 Park: Badlands National Park
It was cool to see the tall multi-colored rocks in Badlands National Park. No two rocks look alike. Winds and rain continue carving this landscape. The Badlands are also known for their rich fossil collections.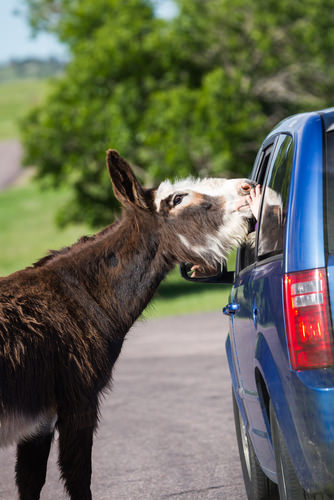 Animal: Burro
When we were driving on the Wildlife Loop Road, we saw some burros along the side of the road. It was funny watching them press their noses against the car windows, begging people for treats.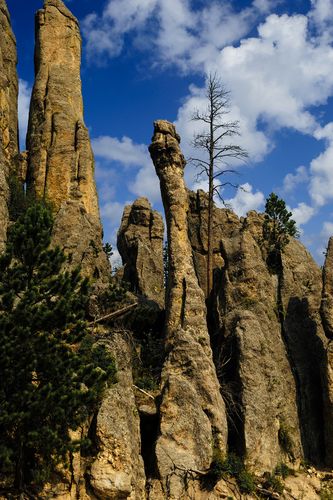 Rock Formation: Cathedral Spires
The Cathedral Spires are a group of rock pillars located in Custer State Park. We saw rock climbers climbing to the top and decided to try for ourselves. We put on rope harnesses and climbed the lower rocks.
---
Chislic Recipe
Chislic is a popular meat dish in southeastern South Dakota. Small chunks of seasoned meat are grilled or deep-fried and served on wooden skewers. Original chislic was made from mutton or venison and served with saltine crackers, but today beef and lamb are popular substitutions. Chislic is easy to cook and fun to eat. Enjoy!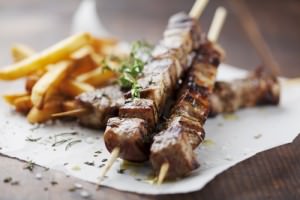 Ingredients
8 wooden skewers
Large sealable bag
1 lb lamb or beef, cubed
1 cup French dressing
Garlic salt
Saltine crackers
Instructions
Soak the skewers in a bowl filled with water for about 20 minutes.
In a sealable bag, combine the meat cubes with the dressing. Marinate the meat up to 24 hours in the refrigerator.
Drain the marinade from the meat.
Place the meat on the skewers.
Cook your chislic skewers over a hot grill until the meat cooks through.
Serve with garlic salt and saltine crackers. Enjoy!
Notes
Do not skewer the meat if you are deep-frying chislic.
---
SHARE THIS: