Welcome to Tennessee, the Volunteer State
Hi friend,
Between going to concerts and visiting music attractions in Tennessee, we didn't have time to tell you in detail about our trip to Great Smoky Mountains National Park.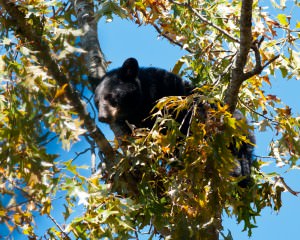 The Cades Cove valley offers some of the best wildlife viewing in the Great Smokies. We already told you about bird-watching in the journal. We also spotted white-tailed deer, elk, coyotes, raccoons and even a black bear cub. It was sitting in a tree, probably hiding from us.
W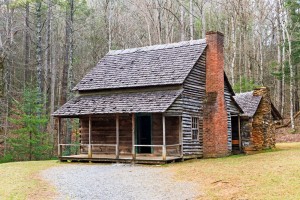 e explored Cades Cove on our bikes so that we wouldn't disturb the wildlife. It is a big beautiful valley surrounded by mountains. Many different people lived here through the ages, from Cherokee Indians to European settlers. There are many historic buildings in the valley, including three churches, log houses, barns and even a working flour mill.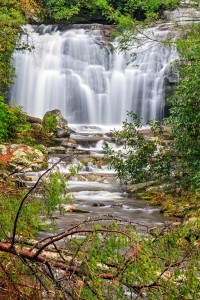 There are also many waterfalls in the Smokies. Not far from Cades Cove, Sam and I found Meigs Falls. It was hidden behind the trees so we decided to  wade through the river, called the Little River, to get a better look. It was a bit cold, but we enjoyed the adventure.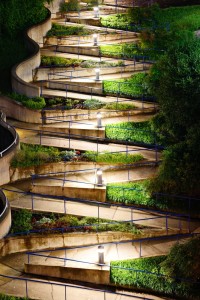 After the Smokies, we decided to return to Chattanooga and visit the riverfront. We found this cool zig-zag walkway and raced each other to the river. Taking a break on one of the benches, we heard music coming from somewhere. We recognized the song. It was one of Tennessee's state songs, called "My Homeland, Tennessee."
What a great time we had in Tennessee! Keep exploring with us by scrolling down to see Photos, our Favorites and an Activity.
See you soon,
Sofia and Sam
---
Sam's Favorites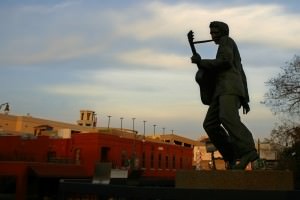 Music Landmark: Beale Street
Beale Street in Memphis is the city's popular gathering spot for songwriters, singers and fans. We spotted a statue of Elvis there. As a teenager, Elvis used to spend a lot of time on this street admiring his favorite musicians such as B.B. King and Rufus Thomas.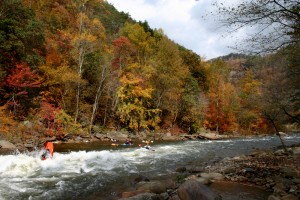 River: Ocoee River
We went kayaking on the Ocoee River near Ducktown. The Ocoee is one of the most popular rivers for whitewater sports in the country. In 1996, the whitewater canoeing and kayaking events for the Summer Games were held here.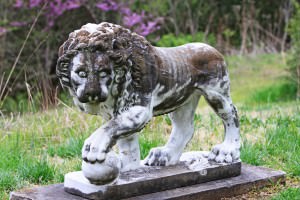 Historical Place: Cheekwood
Cheekwood is a historic estate built by the Cheek family in the 1930s. Featuring botanical gardens and an art museum, Cheekwood was a lot of fun to explore. We went on the Sculpture Trail Hike in the gardens and spotted this lion.
Sofia's Favorites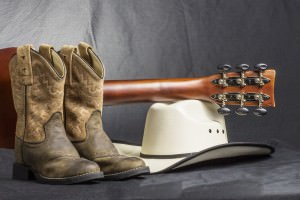 Music Landmark: Country Music Hall of Fame
Nashville is known as the country music capital of the USA. We visited the Country Music Hall of Fame and saw costumes, instruments and photographs of famous country musicians.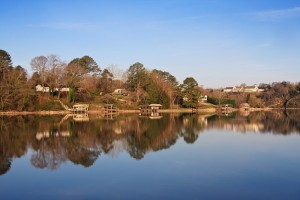 River: Tennessee River
I loved looking over the beautiful Tennessee River. It's more than 600 miles long, making it the longest river that runs through Tennessee. It is home to more than 100 species of mussels!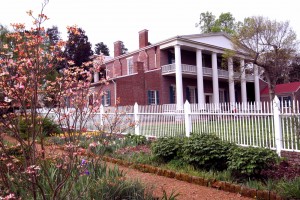 Historical Place: Hermitage
The Hermitage was the home of Andrew Jackson, the 7th President of the United States. It was great to walk through the mansion's rooms, which are filled with old furniture and decorations from the 18th century.
---
Firefly Glow Jar Craft for Kids
The ladybug and the firefly are Tennessee's official state insects. Both bugs have their own set of special traits. Ladybugs are known for their dots while fireflies are famous for "lighting" up their bodies as a way of communicating. Because of this light, fireflies are also called lightening bugs. At night, the light makes fireflies easy to spot. In the summer, many people like to catch fireflies momentarily in a jar to admire them glow before releasing them back into the sky. To create a firefly glow jar without having to catch any real fireflies, follow the directions below.
Firefly Glow Jar Activity for Kids
Ingredients
Glow paint, any colors
Bowls for the different colors of paint
Small paintbrush
Glass jar, cleaned and dried
Glass of tap water
1 vial of glitter, any color
Instructions
Pour each color of glow paint into a separate bowl.
Using the paintbrush, color the inside of your jar with short strokes of paint.
Continue coloring your jar using other paints. Don't forget to clean your brush in the glass of water before changing each color.
Before the paints dry out, sprinkle the inside of your jar with some glitter.
Wait for 30 minutes to let the paint dry.
To activate the glow jar, place it directly underneath a bright lamp or in direct sunshine for at least five minutes.
Put the jar in a dark space and watch the "fireflies" light up!
---
Bonus Activity: Learn more about Sofia and Sam's favorite Tennessee songs!
After completing the State Songs activity in your journal, search and listen to your favorite songs on YouTube. Click here to learn the song lyrics from the Tennessee state website and sing along!
---
SHARE THIS: