Explore Mississippi, the Magnolia State
Hello,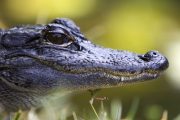 Sam and I had so much fun visiting the Mississippi River. You probably remember from the journal how we spotted alligators in the river and went to the World Catfish Festival in the Mississippi Delta region. Wait until we tell you about our visit to the Gulf of Mexico!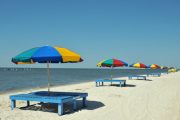 We took a bus to the town of Biloxi, which sits on the Gulf of Mexico. Unlike the Mississippi River, the Gulf is full of salt water. We found lots of pretty seashells on the beach. I could not believe how soft and white the sand was. The water was also very calm here because of the islands just offshore that shield the water from big ocean waves.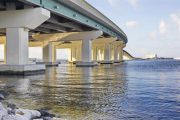 As we were standing on the beach, someone behind us said, "You two look like you're tourists!" It was an older woman in a sun hat holding a little white dog. "Hi," she said. "My name is Elizabeth and this is Lily. We live here in Biloxi," she said, smiling. We shook hands. She invited us for a trip in her speedboat so we could see the city from the water.
Elizabeth told us that Biloxi used to be a fishing town in the 19th century. Shrimp and oysters used to be the most common catch. She pointed out in the water a couple of old-looking boats with sails, saying they were authentic replicas of oyster schooners from the 1900s. Watermen used them to dredge for and catch oysters. "The schooners are now part of the Maritime Seafood Industry Museum. You can go on a sailing trip in one of them!"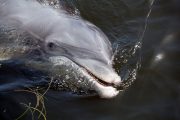 Our boat ride with Elizabeth was a lot of fun. We were also lucky to spot a few bottlenose dolphins in the water. They looked like they were trying to race us!
Afterwards, we got very hungry so Elizabeth invited us to go to a restaurant. For dinner we had crab cakes, catfish, rice and kale. For dessert we each had a slice of Mississippi mud pie, one of my favorites!
You can make your own Mississippi mud pie in the activity section. Also, don't forget to scroll down to see our favorites and photos. We had a lot of fun traveling through Mississippi. It is a state of water, music and great food. We'll see you on our next adventure!
Your friends,
Sofia and Sam
---
Sam's Favorites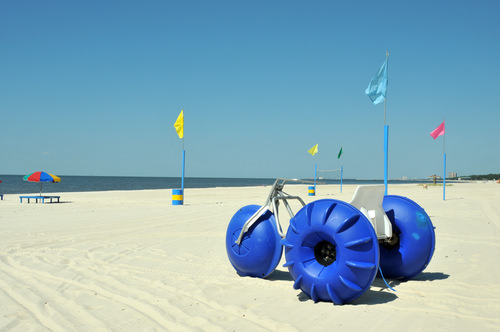 Activity: Riding a Trike
Biloxi Beach is right on the Gulf of Mexico. I was excited to see these big tricycles on the beach and decided to give one a try! It was easy pedaling across the sand. My favorite part was riding in the shallow waves.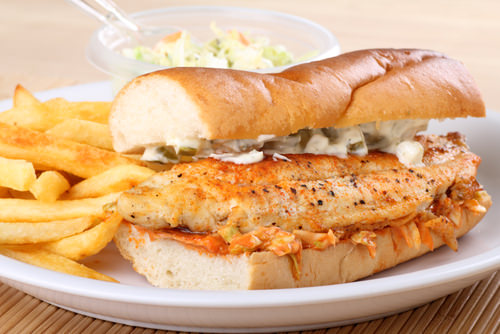 Food: Catfish Sandwich
I tried my first catfish sandwich in Natchez and loved it! The catfish was cooked in salt, pepper, cayenne and oil, and served with mayonnaise between two slices of French bread.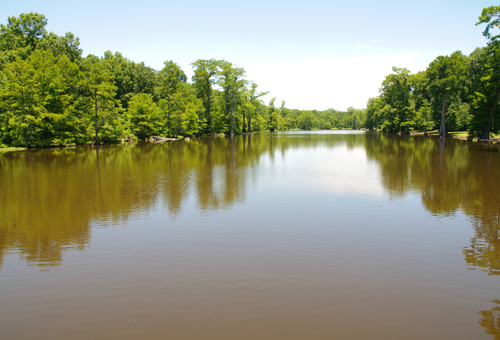 Place: Leroy State Park
Leroy Percy State Park is one of the oldest state parks in Mississippi. We hiked the Black Bayou Trail and saw many cypress trees covered in long strands of moss. We then followed the Alligator Lake Trail and got to see a few alligators in the bayou.
Sofia's Favorites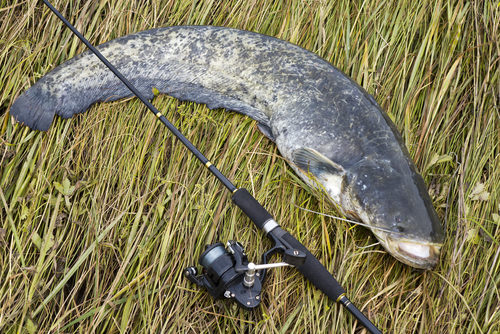 Activity: Fishing
Many people like to fish for catfish in the Mississippi River, so I thought I would give it a try! Sam and I rented fishing poles when we were in Natchez. When I finally caught a catfish, it was so heavy I could barely pull it out.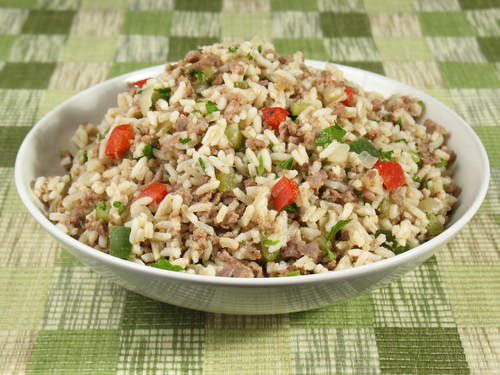 Food: Dirty Rice
Dirty rice is a southern food that combines many ingredients, like celery, green bell peppers and chicken. It's called "dirty" because when these foods are cooked together, the rice turns brown.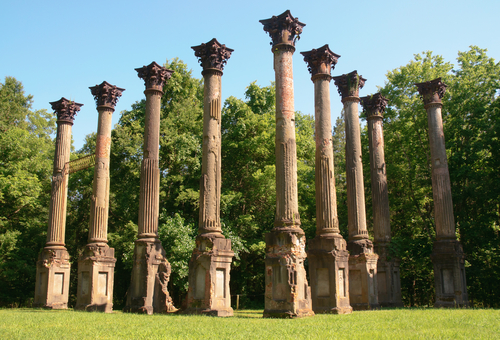 Place: Windsor Ruins
What a discovery this was! The Windsor Ruins in Vicksburg is what remains of a mansion that was built in the 1860s. The mansion burnt to the ground in 1890 from a fire said to have been started from a houseguest's carelessly dropped cigarette.
---
Recipe: Mississippi Mud Pie
The history of this dessert is a bit "muddy," but we know that recipes for it began showing up in magazines and cookbooks in and around Mississippi in the 1970s. It is called Mississippi mud pie because its rich, chocolaty filling resembles the mud on the banks of the Mississippi River.
Total time: 3 hours
Active time: 40 minutes
Serves: 8-10 people
Ingredients
9 chocolate graham crackers
1/3 cup chopped pecans
3 tbsp unsalted butter, melted
Instructions
Preheat the oven to 375 degrees Fahrenheit.
With your hands or a food processor, combine the graham crackers and crumbs until finely ground.
Combine the melted butter and crumbs with your fingers until the crumbs are completely moistened.
Set aside 2 tbsp of the crumb mixture for the topping.
Press the rest of the crumb mixture into the bottom and sides of a 9-inch pie plate.
Bake for about 10 minutes. Remove from the oven and cool on a counter. Do not turn off the oven.
Ingredients
8 tbsp unsalted butter, cut into pieces
2 oz. unsweetened chocolate, chopped
2 tbsp all-purpose flour
Pinch of salt
1 1/4 cups granulated sugar
2 tbsp light corn syrup
1 1/2 tsp vanilla extract
3 large eggs
Instructions
Melt the butter and chocolate in a medium saucepan over medium heat, stirring constantly.
When the butter and chocolate are melted, remove the saucepan from heat. Stir in the flour and salt until smooth.
Stir in the sugar, corn syrup and vanilla.
Add the eggs, one at a time, stirring the mixture until smooth.
Pour the mixture into the cooled crust.
Bake for about 30 minutes until the mixture is set and cracked on top like a brownie.
Remove from the oven and cool for about 2 hours on a counter. The pie should be slightly warm.
Ingredients
1 1/2 cups cold heavy cream
1 tbsp confectioners' sugar
1/2 tsp vanilla extract
Optional: 3 tbsp finely chopped pecans and chocolate sauce for drizzling
Instructions
Using a mixer, beat the cream, sugar and vanilla until peaks form.
Spread the whipped cream mixture on top of the pie.
Sprinkle with the reserved 2 tbsp chocolate crumb mixture.*
Notes
* If using nuts and chocolate sauce, sprinkle the nuts and drizzle the chocolate sauce on top of the crumb mixture.
SHARE THIS: