Why We Developed Science Expeditions
It can be tough to get kids interested in science – that's why we developed Science Expeditions! It introduces kids to the exciting world of science, with a focus on STEM/STEAM principles. Each monthly package includes a comic book adventure featuring our characters Sam and Sofia, a mystery to solve – and, of course – science experiments!  All of the materials are designed to help kids to build skills like problem-solving, observation and note-taking – while boosting their natural curiosity and most importantly, having fun. We know that kids learn best by touching and feeling, so every monthly package includes several experiments, which are kid-tested and developed by educators and toy-industry veterans. Take a peek behind the curtain and meet the team behind Science Expeditions.
We wanted to develop a product and experience that would make learning science fun, engaging and approachable for kids.  Science is such a fascinating field that we want to inspire kids to experience it by asking questions, exploring and experimenting. Even as an adult, I learned a lot of new things while developing the subscription! 
We did quite a bit of research in order to develop the science kits. We found out kids can start to feel discouraged or lose interest in science at a young age. A lot of thought was put into how to encourage kids to see science as a viable path for themselves. We wanted the science experiments to be fun, interactive and educational of course, but we also wanted to emphasize how science is a part of your everyday life. My hope is that we can inspire a new generation of scientists!
Our newest product also fosters a sense of community and teamwork. Sam and Sofia need other people to help them solve mysteries and answer their questions about the world around them – teamwork is the best way to get things done! I love that their curiosity and teamwork takes them around the world for all of these great adventures.
In science, it often takes more than one person—more than one mind, more than one perspective—to fully explore a particular topic or question. Our process for developing Science Expeditions follows this same philosophy of collaboration. I'm immensely proud of the product and the fun, excitement, and learning it offers children, but I'm also incredibly proud of the way everyone on the Little Passports product team contributes to the creation of each expedition. Everyone brings different strengths and specialties to the table, and it's such a joy to see them all come together to create such worthwhile content for kids.
When creating this subscription, we paid attention not just to what the content is, but how we deliver it. We want kids to get excited about science, so we developed content in fun, colorful and lively formats.  Through a letter, a comic book, and activity pages, the story (and the science) is told through our characters.
Of course, one of the best parts of designing this subscription is experimenting! My favorite experiment is the Very Berry DNA Extraction. With just a few household ingredients, you can extract the very building blocks of life in the palm of your hand! It's so cool to see.
In developing Science Expeditions, we took the lessons of being a scientist to heart, in particular, the patience it requires to keep trying experiments over and over again. When we were developing the second month (themed around caves and crystals), we tried to grow rock candy and no one could get it to work. Everyone gave up on it after a few days, but I was determined to get it growing. I had to try different approaches and modifying how I did things slightly each time – just like a real scientist.  Eventually, I got it to grow, and it took a lot of patience to get there – but it felt great to make it work!
We hope kids learn that science is about patience, trial and error, and never giving up. Always keep trying!
---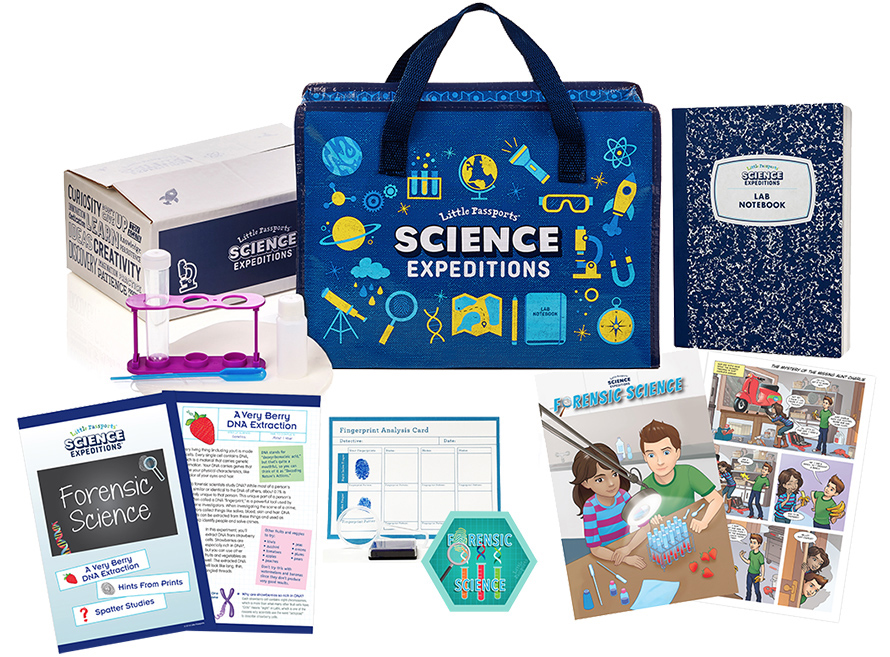 Recommended for ages 9+
"The experiments were fun – we learned a lot!" – Mom of a 12-year old subscriber
Every month, your child will receive a package full of science experiments and STEM-related activities with themes like rockets, forensics, caves and crystals, northern lights and magnetism, hydrology and so much more!
SHARE THIS: