Raising Global Citizens in Pakistan!
We love talking to moms around the world. We find it fascinating to learn about how families spend their days, and how it compares to what we have at home. It is also a great inspiration for thinking up new activities to do with the kiddos, or even a way to learn about kid-friendly destinations when planning our next vacation!
Each country and culture is filled with wonderful new adventures, so when guest blogger Zareen Rahman reached out about her kiddo's adventures in Pakistan, we couldn't wait to ask her a few questions!  Hear her story below.
Little Passports: What is it like to raise a famlily in Lahore, Pakistan?
Zareen Rahman: Raising kids in Lahore is exciting and fun! Lahore is considered to be the heart of the country, often referred to as the city of gardens because of its lush greenery and historic gardens. Two common Lahori traits are that we are extremely family oriented and huge foodies! Naturally, most of our outings include getting together with extended family to cook, eat, and watch the little ones run around. When we aren't gathering at each other's homes, it is easy to find some sort of festivity happening, whether it be a food festival, a farmers market, or just stepping out to view the beautiful seasonal decorations around the city.
LP: What does a typical day out with the kids look like?
ZR: On a typical day out with my daughter, I have many things lined up for us. The Lahore zoo is definitely our favorite place to visit since we are both animal lovers. It also happens to be one of the oldest zoos in the world. It was established in 1872 as a small aviary, and today it houses about 1,381 animals! Along with the excitement of the many different animals, the Lahore Zoo is also filled with 1,280 trees of 71 species. When we get tired of walking around, we love to rest under the shade of an old tree and enjoy a snack.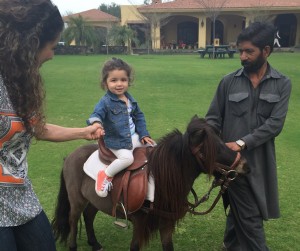 There are also a number of parks for kids that include activities such as horseback riding, paddle boating and riding trains. However, since Lahore is on a plain, the weather is not always great. Our summer is long and dry which restricts a lot of outdoor activity. To cool off during the summer, we love to visit water parks that have wave machines and slides for kids.
LP: Whats has been your favorite kid-friendly place to visit in Pakistan?
ZR: My favorite kid-friendly place for my 2 year old is definitely my brother's restaurant, Outpost. It's a lovely outdoor space in a secluded neighborhood with huge empty grounds which makes the ambiance very rustic and peaceful. There is an large play area for kids that she absolutely loves to explore with her cousins. Some of her favorite things to do include jumping on the trampoline, climbing the jungle gym, and playing in the sand pit. Along with all the fun, she loves their food as well; she is definitely a little foodie in the making!
LP: As a mom, how do you encourage your kids to learn about the world and other cultures?
ZR: My daughter will be turning two this August and she has just now started forming sentences on her own. We are finally at an age where I can take her out and share the culturally rich history of Lahore. Recently, my family and I visited old town Lahore, where you can see many different influences such as Mogul and British.
The second thing is traveling. There's nothing more exciting than visiting a place with a culture so completely different to the ones that you're used to, whether international or domestic. In fact, there are many different cultures represented in Pakistan that people aren't aware of. There are places that I myself have never visited that tell tales of the past, and I would love for my daughter to know her own country well. Besides being so culturally affluent, the north of Pakistan is considered to be one of the most scenic places in the world. I definitely want her to be able to visit these places as much as she can.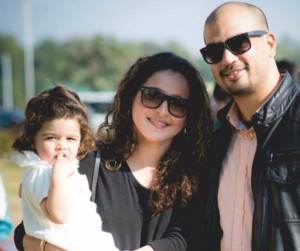 Zareen Rahman is a stay at home mom from Lahore, Pakistan where she is raising her spirited daughter. On any given day you can catch her getting into new adventures with her toddler, running a household, working out at the gym or volunteering at her brother's restaurant.
Loved this? Check out the rest of our Raising Global Citizens series below:
Raising Global Citizens in Paris!
Raising Global Citizens in Montreal!
Raising Global Citizens: A Mom on the Move!
SHARE THIS: